Looking to demonstrate your company's commitment to safety?  Then you may want to participate in OSHA's first-ever "Safe and Sound" Week.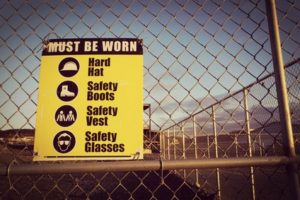 While it should come as no surprise that the construction industry is one of the highest risk industries in the nation, the truth is that fatalities and injury rates in private construction far outpace the U.S. average across all industries. According to the Bureau of Labor Statistics, there were approximately 2.9 million nonfatal workplace injuries and illnesses reported by private industry employers in 2015, with the percentage of nonfatal private sector construction injuries occurring at a rate of 3.5 per 100 workers.  Fatalities in the private construction industry rose approximately 4% between 2014 and 2015, which reinforces the fact there is much room for improvement in safety programs in the construction industry.
The old proverb stating that "an ounce of prevention is worth a pound of cure" goes a long way when referring to safety programs.  Being proactive is key to strengthening jobsite safety; insecure jobsites put your workers and your business in harm's way, which can negatively impact your company's reputation and bottom line.  By taking part in OSHA's Safe + Sound Week, your company can commit to reviewing your current safety policies, making additions and/or revisions, or creating new policies that may be missing.
While there are a number of safety policies, programs and educational tools that you can implement, OSHA has stated that all effective programs share the following three core elements:
Management Leadership – Lead managers commit to establishing a safety program, along with performing regular maintenance and improvements as necessary.
Worker Participation – An ideal safety program will include input from workers, encouraging them to identify solutions to ongoing or current safety issues. By improving worker engagement and communication, crews can have higher levels of job satisfaction and be more productive on the job.
Systematic "Find and Fix" Approach – Employers should work with their employees and workers to make a habit of regularly reviewing the workplace for hazards. By creating a system or routine practice for identifying potential hazards, they can be addressed before they become the cause of injury.
OSHA stresses the fact that safety programs do not need to be complicated, nor should they require expensive consultants or outside services to be developed.  On the contrary, OSHA encourages a "Do-It-Yourself" approach and offers recommended practices for safety and health programs in construction (published October 2016), employer tools, case studies and other downloadable guides.
In addition to preserving life, safety programs improve compliance with laws and regulations, reduce costs associated with workers' compensation, engage employees and increase productivity.  To refresh your team's awareness of the importance of your safety policies, you may choose to participate in OSHA's Safe + Sound Week.  OSHA invites businesses of any size and industry to participate, and they provide flyers and tools to share with your clients and the public to demonstrate your commitment to safety.  To learn more and sign up to receive updates regarding the campaign, visit OSHA's Safe + Sound Week webpage.
To get the latest on industry updates, business and marketing tips, stay connected with the HBW Blog.  If you would like to get ahead of construction activity and gain access to the latest permitting data in Florida, Texas, Georgia, Alabama and Oklahoma, contact HBW for more information on construction data reports and industry leads.