It is a good idea to perform regular reviews of your job sites for safety and OSHA compliance.  Here is a look at recent statistics and resources from OSHA.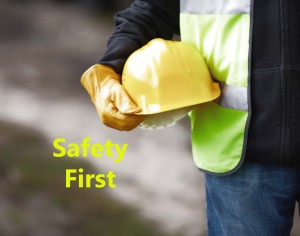 As industry professionals, we are aware of the risks that our businesses and crews face each day on the job.  We train our crews, provide proper safety equipment and develop safety policies and guidelines to protect our workers and clients.  Truth be told – sometimes all the preparation in the world is simply not enough.  OSHA site inspections happen daily, and no matter how much safety equipment and guidelines you have in place, they are worthless if not used and followed consistently.
For this reason, we reviewed some of the most common OSHA citations, updates and free resources that are available.
CITATIONS
It's a harrowing feeling to drive up to a job site and notice that our crews aren't following safety standards.  Finding someone on a roof without a harness or not wearing protective gear while using chemicals is not just a hazard but a real liability.  What are the most common OSHA Citations?  We took a look at the latest statistics available on OSHA.gov to recap the 10 most common citations from 2013 to 2014 in the construction industry:
As evident in Diagram 1, Fall Protection is the most commonly cited OSHA standard within construction, with more than 96% of associated site inspection resulting in a citation.  In general and within all industries, OSHA's most frequently cited violations are as follows:
Based on the high number of fall protection infractions, it is understandable that falls (36.5%) were the leading cause of death out of 821 construction-related fatalities in private industry during 2013 (source: OSHA.gov).  OSHA considers it to be one of the "Fatal Four" worker fatalities, along with strikes by objects (10.1%), electrocution (8.6%) and caught-in/between (2.5%).
In order to assess hazards and protect workers, OSHA has developed a number of helpful and free resources for protecting crews:
Training – OSHA offers a wide variety of training programs and resources at www.osha.gov.  The revised version of the Training Requirements is exhaustive and over 250 pages in length but will provide detailed information on what is required in meeting the training standard.  If you are just getting started, the Training Tab on OSHA's website provides quick links for locating educational programs near you, PowerPoint guides and more.
Updates – You can stay informed on the latest updates from OSHA by following their feed or subscribing to their semimonthly newsletter.  The latest updates include modifications to the "Recordkeeping Rule" – The Occupational Safety and Health Administration revised its recordkeeping rule this year to now include two primary changes:
There has been an update to industries that are exempt from the requirement to routinely keep OSHA injury and illness records, due to relatively low occupational injury and illness rates. Click Here to learn more about who is required or exempt from keeping records.
The rule has been expanded to include severe work-related injuries that all covered employers must report to OSHA. The revised rule maintains the current "within 8 hours" reporting requirement for work-related fatalities and adds the requirement to report all work-related in-patient hospitalizations, amputations and loss of an eye within 24 hours to OSHA.
Safety Tools/Apps –  OSHA has and continues to develop a number of interactive and user-friendly apps and training tools that contractors and crews can use to assess hazards on the job. Here are a few to get started:
OSHA's Hazard Identification Training Tool is a web-based video game style training tool that can be used for learning the core concepts of hazard identification. The objective of this tool is to empower business owners and crews to better understand the process in identifying hazards in their own job sites.
Heat Safety Tool App was developed in conjunction with OSHA's "Water. Rest. Shade." campaign to decrease the number of heat-related injuries and fatalities. Heat illnesses and deaths are preventable, and this app is an easy way to calculate the heat index and understand risk levels.  The app also allows the user to receive reminders about protective measures that should be taken.
Safe Lifting Calculator was developed by Oregon's Department of Consumer and Business Services to automatically alert the user when he/she fails to use proper lifting techniques while picking up a box or similar load. Oregon OSHA's app was designed based on research conducted on safe lifting in order to provide a maximum safe weight for various lifting scenarios.
Although the construction industry is chock-full of high risk hazards, your business and workers can stay safe with proper training, tools and understanding of the risks involved on the job.  By staying abreast of the latest standards and utilizing apps and tools, such hazards and associated accidents can be avoided. As there are hazards specific to the construction industry, OSHA offers a webpage dedicated to construction, offering updates and tools that are easy to navigate and understand.  Since standards can be revised at any time and new tools are developed each year, it is important that you continue to review your current safety guidelines/standards and make proper modifications to keep your crews informed and safe.
HBW serves contractors and construction/design professionals in Alabama, Georgia, Texas, Florida, and Oklahoma. HBW offers the most current building trend and permitting activity reports, along with White Papers to assist in your marketing efforts. Contact us for a complimentary building data report or white paper today.