Fall is here, bringing new opportunities to engage customers and offer Fall home maintenance services.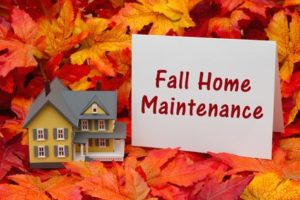 When many people think of the Fall season, cooler weather and images of Fall leaves and trees easily come to mind.  What many people easily overlook is the Fall home maintenance and prevention services that can prepare them for winter and add longevity to their current structure
For this reason, now is the perfect time for sending a friendly reminder, and maybe even a promotion, to customers regarding fall home maintenance.  One of the ways to put fall maintenance needs on their radar is to provide them with an easy checklist that they can review on their own or contact your business to have a seasonal assessment.  From energy efficiency and insulation to prepare for colder months ahead to safety checks and landscape preparation, there are a variety of services that you may be able to provide customers or refer them to a partner company.
When reaching out to your customers, it is best to offer some free resources and information (such as a seasonal checklist) that they can use to prepare their property on their own.  Whether through a mass mailer or email marketing campaign, helping your customers prepare their property will reengage them and properly position them for the season ahead.  Checklist items may include the following:
Landscape + Outdoors

Assess the health of trees on the property; make sure they are properly trimmed and pruned to avoid the dangers of falling limbs in winter storms.
Rake Leaves – While falling leaves are an expected and beautiful part of this time of year, leaving too many on the lawn throughout the season can inhibit spring growth.
Clear Gutters – After the leaves have fallen, make sure to clean gutters and downspout as leaves can obstruct water flow during rainstorms and cause water to pool; it can be damaging to roofs and siding.

Building Structure

Walk the Property – Examine the exterior of the home. Any damage to the roof, siding or foundation should be reviewed by a professional and ideally repaired before the winter season begins taking a toll.
Add Weather Stripping – From frames of windows to doors, weather stripping can help regulate indoor temperature and increase energy efficiency.
Seal Gaps – In addition to the gaps in windows and doors, review the building for any holes or gaps that may serve as entryways for small critters. Sealing such gaps will decrease the likelihood of having mice or similar visitors in your home.
Chimney and Heating Systems – It has been a while since you have used your chimney. For this reason, now is a good time to set a maintenance appointment for having the chimney, furnace and boiler cleaned and in working order.

Safety Check

Test Detectors – Smoke and carbon monoxide detectors don't check themselves; make sure they are in working order and replace batteries if needed.
Fire Extinguisher – While you don't need to "test" an extinguisher, you should make it a habit to check the expiration date and replace if necessary.
Lighting – Make sure all outdoor lights are functioning, and if on a timer, make sure to adjust it for the shorter daylight hours; replace bulbs if needed.
Outdoor Stairs and Walkways – In addition to making sure that all stairways and walkways are cleared from debris, the fall season is a great time to check for any loose pavers, steps or railings. If you live in a colder climate, the winter months will make walkways slippery, and railings and steps will need to be clear and in good shape.
By providing your customers with some easy tips and guidance for seasonal home preparation, you do more than simply serve as a resource… You and your business can become a trusted partner is home safety and maintenance for years to come.
For more information on construction business and marketing tips, stay connected with the HBW Blog.  To get ahead of construction activity and gain access to the latest permitting data in Florida, Texas, Georgia, Alabama and Oklahoma, contact HBW for more information on construction data reports and industry leads.