With temperatures rising, it is important to make sure your crews are safe and ready for summer.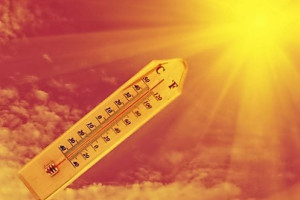 As mentioned in last month's HBW Florida swimming pool report,  NOAA's Climate Prediction Center has this summer expected to be one of the hottest on record.  Although this is great news for those looking to offer swimming pool construction and maintenance services in the coming months, for home builders it means taking proper precautions to ensure the safety of crews that will be working outdoors.  From hot tar on roofs to asphalt that can get up to a few hundred degrees, summer heat can lead to heat-related illnesses and, in some case, be fatal.
The truth is that the common advice of staying indoors or under the shade is simply not an option for a variety of construction crews, from roofing to landscaping.  It is unrealistic to expect to be in the shade all summer.  Sun and heat exposure are a constant and inevitable variable in onsite safety and is not a subject to be taken lightly.  From protecting skin to preventing heat exhaustion, here are a few easy tips for keeping your crews cool this summer:
Schedule – Whenever possible, have crews work away from direct sunlight. If that is not an option (as in most cases), try to push your job start time to earlier in the day.  If your project has both indoor and outdoor sections, focus on the outdoors during the morning hours and bring your team indoors in the afternoon.
Educate – Teach your crews to recognize the signs and symptoms of heat-related illnesses. From early warning signs such as heat cramps and dry mouth to more advanced symptoms like fainting, vomiting and rapid heartbeat, your team should know what to look for in their crew members and how to handle the situation.
Safety Kits – Although many companies leave certain supplies up to employees, your safety kit should be a given on the job site. Make sure it is up-to-date and that all products have not reached their expiration. Single-use cold packs are not just for acute muscle injuries; providing packs to wear on the neck or head can assist in bringing the body temperature down fairly quickly.
Water Breaks – Reinforce mandatory water breaks. Your job site should be equipped with a continuous supply of water that is kept cool and easily accessible.  Along with water, you should also offer an electrolyte replacement beverage.  Your foreman should ensure that all crew members are drinking water and taking a sufficient amount of breaks to replenish their fluids.
Provide Shade – In addition to water, you should have a shaded break area. If a particular site does not have a shaded area, it is worth investing in portable shade.  There are a number of pop-up tents and umbrellas that are offered by industry suppliers that will keep both the refreshments and your crews cool.
Dress for Heat – Depending on your required uniform, you may want to offer coolmax or similar fabrics for shirts, as well as wide-brim hard hats. Sports and performance fabrics may have a heftier price, but they prove to be effective in drawing perspiration away from the skin and keeping the body cooler. Garments should be loose-fitting, lightweight, and light-colored. Cooling bandanas are also effective in moderating body temperature.  Also, don't forget about sunblock.  Although it doesn't keep the body cooler, it is key in preventing sunburns, sun poisoning and, of course, skin cancer. Choose a product that has an SPF of at least 30 and says "broad-spectrum" on the label.  "Broad-spectrum" (or full-spectrum) means that the product protects against both the sun's UVA and UVB rays. It should be applied 15-30 minutes prior to sun exposure, and crews should be provided time to reapply throughout the day.
Use the App – As I have mentioned in a previous safety post, OSHA offers a free Heat Safety Tool App. With the app, workers and supervisors are able to calculate the heat index for their site and understand the risk level to outdoor workers. With just a "click," they can receive reminders of proper precautions for reducing the risk of heat-related illnesses. Additionally, there is helpful information about rest breaks and how to handle emergency situations.
Although heat exhaustion and stroke can be scary, the survival rate is 100% when rapid and proper treatment is given to someone suffering from the condition. Through simple precautions and education, your crews can stay safe, productive and cool this summer.
For more information on construction business tips, safety and industry updates, stay connected with the HBW Blog.  To get ahead of construction activity and gain access to the latest permitting data in Florida, Texas, Georgia, Alabama and Oklahoma, contact HBW for more information on construction data reports and industry leads.