Keeping an eye on design trends, now and in the not so distant future.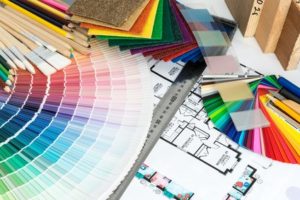 We are only in summer of 2017, and the home building trend crystal ball is already glowing.  Designers and trend watchers are getting 2018 buzz going when it comes to home design and patterns, and we are here to review and share some of Pantone's predictions.
While home trend predictions are far from an exact science, much of it is based on real data.  And while Pantone was once known for just choosing the color of the year (with exceptional accuracy), in recent years they have positioned themselves as experts in general home design predictions, now including seasonal colors and home décor.  Pantone doesn't just pull a color out of the hat so to speak; it actually researches and analyzes trends worldwide and over two years in advance of releasing their predictions.  They gather information from pop culture, architecture, consumer goods, current events and trends, and as they described on their website, they provide "a color snapshot of what we see taking place in our culture that serves as an expression of a mood and an attitude."
In addition to those in the fashion industry, Pantone's predictions prove to be valuable to the home design and décor industry as well.  Along with being ahead of the trend, having such data can help you guide your trend-conscious clients in the right direction.  From Realtor.com to Elle Décor, publishers in our industry have been sharing Pantone's latest predictions since Pantone's Executive Director (Leatrice Eiseman) announced expected color and design trends for 2018 at the International Home and Housewares Show in Spring.  Here is some of what we have found as it relates to home builders and designers:
Shine – As many trend watchers are aware, metallics have been on the scene for quite some time now. That being said, predictions point to shiny metallics as classics that are now seen to be in similar classification as neutrals.  Other shiny surfaces such as iridescent, pearl and translucent materials are eye-catching and will be unavoidable in the upcoming year.
Typography – When colors and images don't make a statement, stylists are bringing in words. Words and text have been on the home décor scene for some time now, and although they are less of a centerpiece and more of a complementary addition, you will most likely continue to find them incorporated on pillows, in art pieces and murals.
Geometric Design – There was buzz of textures and geometric designs in wallpaper this year, and it looks like the latest predictions have included shape driven patterns once again. While such patterns can easily be incorporated in fabrics, walls and wall art will also carry geometric patterns with the coming trends.
Earthy – Blame it on technology or the speed of our lives, but there has been a significant shift in interest with emphasis on getting back to basics. Think raw wood, wood floors and wood home accents including walls and ceilings.  Sustainability and the idea of getting back to nature has and is expected to continue to find its place in home design.  On the décor front, fringes on fabrics from curtains to blankets will also become more prevalent.
Bold – Intense colors appear to be on the menu in the next year, of course with iridescent and pearl accents. Color groups ranged and were represented through a group of eight varieties. Intense colors have been predicted across a spectrum including fun and whimsical bright yellows and greens to vibrant and peacock feather like blues and greens, fuschia and purple shades.
For more information on construction trends, business and marketing tips, stay connected with the HBW Blog.  To get ahead of construction activity and gain access to the latest permitting data in Florida, Texas, Georgia, Alabama and Oklahoma, contact HBW for more information on construction data reports and industry leads.