Last month, D.R. Horton continued its lead for total housing starts in Texas, ranking it #1 in the HBW database for new residential construction.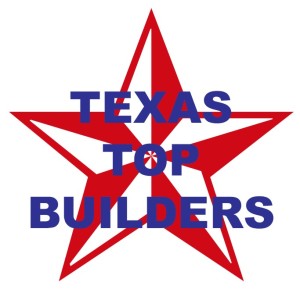 It's been a while (a few months) since we've taken a good look at Texas home builders.  Just last week, we reviewed new residential construction activity in Texas for the month of November, and now it's time to review the leading builders behind the figures for new residential construction last month.
It should come as no surprise that D.R. Horton remains on top for total housing starts; after all, they have been on top since the start of the year. With 311 new residential construction permits from the combined areas within the "Texas Triangle" (Dallas, Houston, Austin, San Antonio), D.R. Horton is tough to beat.  In fact, the mega home builder ranked #1 for total new permits in the HBW database last month in every area except San Antonio.
When looking at leading builders statewide, the lineup of the top three remains the same with some variances in figures.  Here's the latest on the top three builders across the Lone Star State:
#1 D.R. Horton – Last month, D.R. Horton had a total of 311 housing starts and more than $53M in total value added to the HBW database.  The builder's greatest number of starts took place in Houston (128 permits), and approximately half of those starts occurred in Harris County.  The average value of D.R. Horton's housing starts in Houston was approximately $139.5k, and the home builder's highest average value of construction was in Dallas at close to $217k.
#2 Lennar Homes – With 186 housing starts and nearly $40M in construction value, Lennar Homes ranked second for total new residential construction permits in November. Much like D.R. Horton, Lennar Homes had the most total new permits in Houston (87 permits) with greater concentrations of new construction activity in Harris, Montgomery and Brazoria counties. In Houston, Lennar's average value of construction exceeded $175k, and its highest average value could be found in Dallas at nearly $262.5k.
#3 KB Homes – With Houston having the most housing starts out of the four major metro areas last month, it is understandable that KB Homes also had the greatest number of new residential permits coming from the area as well.  Across the state, KB Homes had 122 housing starts with a construction value nearing $20M, and 55 of those starts originated from Houston.  Much like Lennar Homes, the bulk of Houston construction for KB Homes took place in the counties of Harris, Montgomery and Brazoria. The builder's average value of construction in Houston was approximately $136k last month, while its highest average value was in San Antonio at more than $197k.
Now that we have a better understanding of how builders stacked up across Texas last month, here's a closer look at the top builders within each major metro area:
HOUSTON
As previously mentioned, D.R. Horton topped the list for total new residential permits in Houston last month (128 permits).  Not far behind, Perry Homes had 105 housing starts and a total construction value of close to $24M.  Hanging in at third highest, Lennar Homes had 87 housing starts in the area and a total construction value of more than $15M.
DALLAS
Residential construction in Dallas was also led by D.R. Horton last month, with 75 housing starts and approximately $16.3M in total construction value.  Next highest was Lennar Homes with 65 new permits (total value: >$17M), and Calatlantic Homes made its mark in third with 44 housing starts and more than $17.3M in total construction value.
AUSTIN
D.R. Horton was the leading builder in Austin last month with 104 housing starts and $18.5M in total value.  KB Homes ranked second with 42 housing starts (total value: ~$7.8M), while Calatlantic Homes came in third highest with 36 new permits and a total value of $7M.
SAN ANTONIO
Continental Homes of Texas took the lead in the San Antonio area with 31 housing starts on file and a total value of approximately $6.5M.  KB Homes was second highest with 20 starts and a value of nearly $4M, and Meritage Homes held in third with 19 housing starts and nearly $2.3M in total value on file for the month.
Information utilized for the graphs and above listed figures for Texas home builders and residential construction was directly derived from HBW construction data reports. To gain access to the HBW database and receive custom and detailed reports on the latest residential and commercial building activity in Florida, Georgia, Texas, Alabama, and Oklahoma, please contact HBW for details.