With more than 16,700 housing starts in the first quarter of 2017, Florida residential construction is 6% ahead of 2016.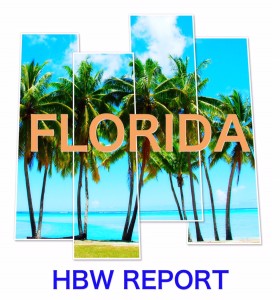 Florida's population is rapidly growing, and over the last five years, the demand for new residential construction has grown with it.  In just the first quarter of 2017, the Sunshine State had just over a 6% year-over-year increase in new residential construction.  Out of the six major regions reviewed, all areas with the exception of Southwest Florida experienced growth.
The western portion of the state, including the major metropolitan area of Tampa, led in Q1 as it had just about a 25% year-over-year increase in housing starts.  Out of the nearly 3,700 housing starts in the west, the counties of Hillsborough and Polk held the majority of activity with a combined total of more than 2,150 new residential construction permits.
With a 6% increase in housing starts in comparison to 2016, Central Florida is continuing its solid and steady growth in the residential market.  Central Florida had more than 3,400 housing starts in the first quarter of this year, and while the city-central county of Orange is having a slower start to the year (-6%), it led the Central Florida area with just about 1,300 new permits being added to the HBW database.  The Central Florida counties with the greatest amount of growth in comparison to 2016 are Seminole and Brevard.
While Southwest Florida is just about 5% behind last year's residential construction activity, it ranks third highest for total housing starts.  In Q1, there were more than 3,000 housing starts in the southwest region, and the highest concentration of new homes could be found in Lee County (918 permits).  Although most counties experienced lows in Q1, growth could be found in both Sarasota (+20%) and Lee (+9%) counties.
In the northeast, Jacksonville and neighboring areas experienced a healthy dose of new residential construction, landing it just about 3% ahead of Q1-2016.  Out of the 2,569 housing starts in the northeast region during Q1, St. Johns County had the highest concentration of starts (901 permits), and residential construction activity is consistent with the previous year.  With close to 350 housing starts, Marion County reflected impressive growth with more than a 70% year-over-year increase in residential construction.
Northwest Florida and neighboring areas of Alabama are holding steady in residential construction; with more than 2,200 housing starts, the region was slightly ahead (+1.6%) of 2016 in the first quarter.  While the entire northwest region is stable as a whole, counties such as Leon and Wakulla are showing strong growth relative to their size and average residential construction activity of the previous year.  Northwestern counties with the greatest concentration of housing starts include Baldwin in Alabama (555 permits) and Santa Rosa in Florida (322 permits).
Finally, we have the southeast portion of the state where there were more than 1,760 housing starts in Q1 of this year.  While the area is ahead of 2016 by 6%, counties like Miami-Dade and St. Lucie have really taken off since the start of 2017.  The highest concentration of housing starts could be found in Miami-Dade, where a 74% year-over-year increase resulted in nearly 530 new residential construction permits in Q1.  St. Lucie County is also ahead of the previous year; with a 21% increase in residential construction, St. Lucie had 380 housing starts and appears to be continuing its growth pattern from the last several years.
There is still plenty of time (three more quarters) for other areas to catch up, and HBW will continue to track the latest new residential construction permitting activity and provide subscribers with the data and leads needed to reach their targets this year.
Information utilized for the graphs and above listed figures for Florida residential construction was directly derived from HBW construction data reports. To gain access to the HBW database and receive custom and detailed reports on the latest residential and commercial building activity in Florida, Georgia, Texas, Alabama, and Oklahoma, please contact HBW for details.