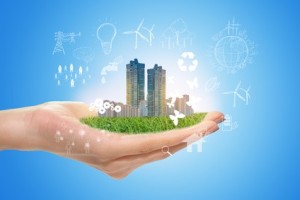 Earlier this summer, we reviewed the latest green building efforts in Florida through South Miami's recent commitment to solar on new and renovated structures.  Since then, there have been quite a few stories published about solar and sustainable construction efforts happening throughout Florida; news about solar has been buzzing in the Sunshine State, and with Florida being one of HBW's focus areas for construction leads, we decided to dig a little deeper to highlight just a few more earth-friendly efforts that have made headlines in the past month…
Solar is looking up in St. Petersburg, Florida.
It appears that South Miami has a friend in St. Petersburg, Florida.  The gulf coast city just outside of Tampa is looking to help pave the way for solar.  Similar to the law recently passed in South Miami, St. Pete's City Council is considering a new law that would require solar panel installations on new homes; unlike South Miami, this law would also require solar panels to be installed on repaired roofs that have sustained heavy damage.
If the ordinance is passed, St. Petersburg would become the seconds city in Florida to require solar to be installed on new homes. Questions regarding the potential cost to homeowners was addressed by the Tampa Bay Times and answered as follows:
The typical new Florida home uses about 12,720 kilowatt-hours of electricity annually. Adding an 8 kilowatt photovoltaic system at $2 per watt, minus the 30 percent federal tax credit, equals an average up-front price for residential solar panels at $11,000, according to the Florida Solar Panel Center at the University of Central Florida. That would lead to a monthly power bill of $11 instead of $125 per month.
While the ordinance has a road of discussions and review ahead, a tentative schedule calls for considering a final version by December, with the effective date in 2018. (source: Tampa Bay Times)
HERO program is behind sustainable improvements for Palm Beach homeowners.
As recently announced by Renovate America, homeowners across Palm Beach County now have access to "HERO", a financing program that supports energy, efficiency and wind-resistance improvements.  Haven't heard of HERO yet?  Well, if you are in Palm Beach County and looking to make sustainable improvements to your home, it is worth knowing about how HERO can assist in managing the cost.  The program enables homeowners to pay for upgrades over a period of time through an additional assessment on their property tax bill.  As a result of a partnership between the Florida Development Finance Corporation and Renovate America, HERO is the largest Property Assessed Clean Energy (PACE) financing program in the country.
Improvements that meet the eligibility requirements include solar, energy-efficient HVAC systems, storm shutters and other wind damage protection that meet or exceed Florida Building Code requirements.  The products eligible for financing through the program have the potential to lower utility bills and/or insurance premiums and offer homeowners additional safety and comfort.
In addition to Palm Beach, other Florida counties that offer HERO financing include Broward, Brevard, Hillsborough, Miami-Dade, Brevard, Orange, Leon, Nassau, Pasco and Charlotte.
Volusia County has a solar energy cooperative.
Earlier this week, Volusia County provided residents an opportunity to take part in a solar co-op.  The co-op has a variety of partners including but not limited to the League of Women Voters of Volusia County, Sierra Club's local chapter, Stetson University and the City of Deland.  The group is the 16th solar cooperative in Florida.  To continue to move forward in Volusia County, the cooperative will need secured commitments from a minimum of 30 homeowners.  The informational sessions are free to attend, and the co-op is free to join.  The first session is scheduled for September 20, 2017 at Stetson University, with other sessions to follow through October and November at various locations throughout Volusia County.  For more information, visit the FL SUN website.
For more industry news and construction business tips, stay connected with the HBW Blog.  To get ahead of construction activity and gain access to the latest permitting data in Florida, Texas, Georgia, Alabama and Oklahoma, contact HBW for more information on construction data reports and industry leads.