A guide to some of the various industry expos to check out this year…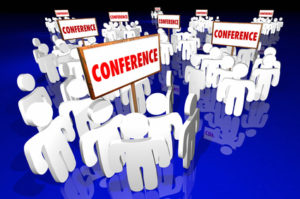 Continuing from our post in October, we are keeping an eye out for the latest expos that will be of interest to our readers.  As with all networking and industry events, planning ahead is key to success.  From contacting vendors and sponsors to setting up meetings with exhibitors of interest, you will want to get a jump start on your expo calendars, travel arrangements and office schedules.
Here are a few more industry events to add to your "radar" for this year:
World of Asphalt
This show and conference features over 350 of the industry's leading manufacturers and service providers in the aggregate, asphalt, pavement maintenance, and traffic safety industry sectors.
Dates: March 6-8, 2018
Location: Houston, TX
More information: http://www.worldofasphalt.com/
National Hardware Show
The National Hardware Show is a housing after-market show that includes manufacturers and resellers from 15 major product categories including remodeling and repair.
Dates: May 8-10, 2018
Location: Las Vegas, NV
More information: http://www.nationalhardwareshow.com/Home/
Coverings
Event features innovative tile and stone products from around the world, free seminars, keynotes, live demos, and networking opportunities.  Trade attendees include: Distributors, retailers, fabricators, contractors and installers, architectural and design professionals, builders and remodelers.
Dates: May 8-11, 2018
Location: Atlanta, GA
More information: http://www.coverings.com/about
East Coast Builders Conference
Although previously mentioned in October, this event is worth repeating.  Mark your calendars…
Dates: June 14-15, 2018
Location: Nashville, TN
More information: http://ecbcshow.com/
Build Expo
A B2B trade show serving the construction industry and offering multiple locations and dates.
Dates: July 11-12, 2018
Location: Atlanta, GA
More information: http://buildexpousa.com/
GlassBuild America
GlassBuild is an event serving the entire glass, window and door industries in North America.
Dates: September 12-14, 2018
Location: Las Vegas, NV
More information: http://www.glassbuildamerica.com/
CONSTRUCT
This event is the only dedicated national trade show and educational conference for the commercial building teams that spec and source building products.
Dates: October 3-5, 2018
Location: Long Beach, CA
More information: https://www.constructshow.com/en/home.html
GreenBuild
GreenBuild is the world's largest conference and expo dedicated to green building.
Dates: November 14-16, 2018
Location: Chicago, IL
More information: https://www.greenbuildexpo.com/en/home.html
For more information on construction business and marketing tips, stay connected with the HBW Blog.  To get ahead of construction activity and gain access to the latest permitting data in Florida, Texas, Georgia, Alabama and Oklahoma, contact HBW for more information on construction data reports and industry leads.