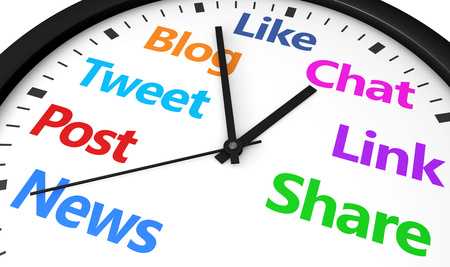 In previous posts, we've talked quite a bit about Instagram, LinkedIn and other social networks.  From getting the most out of ad campaigns and using Instagram "Stories" to amping up your posts and videos, there are many features to explore and utilize in the world of social media.
While social media is now really part of any solid marketing strategy, as a small business owner or contractor, you may only have the budget (and time) for a select few social channels/outlets.  Truth be told, you shouldn't start an account unless you are ready and have the infrastructure for maintaining it, and sometimes that means starting out with just one social media profile.  So, where does one begin?  How do you choose which social media platform is right for you and your business?
While there is no one right answer for everyone, you should take a look at a few factors:
Who are the primary users of the platform? Are they your target audience?
How many users/viewers are active every day?
What type of content do users post? For example, if you can't easily produce video, don't expect to be very active on YouTube.
How often will you need to post to stay relevant and engaging?
If you have the ability, be present on as many social platforms that reach your audience as possible.  If you still need help narrowing down your options, here are some easy statistics and facts that can assist in finding the best social media platform for you:
FaceBook is a powerhouse simply due to the fact that it has been around for some time and has set the stage for other applications.  That being stated, it also owns Instagram, so the growing popularity of Instagram doesn't take away from its power, especially because it is very easy to link posts from both accounts.  When looking at the latest stats on users, the number of daily users and primary age group of users should be of greatest interest.  According to a survey conducted by Pew Research in January 2018, here are some statistics worth considering:
Around two-thirds of U.S. adults (68%) use Facebook. Out of the users, 74% of women and 62% of men in the U.S. use the platform.
People in urban areas are more likely to use FaceBook than those in suburban regions.
The older generation (65+) have doubled their presence on FaceBook with 41% of older Americans being active users.
When looking at daily use, 74% of users report visiting FaceBook on a daily basis, while there are 63% on Snapchat, 60% on Instagram, 46% on Twitter and 45% on YouTube.
When reviewing age ranges, out of Americans from ages 18- to 24, 94% use YouTube, 81% use FaceBook, 78% use Snapchat, 71% use Instagram and 45% use Twitter.
YouTube is now used by nearly 75% of U.S. adults.
Pinterest has a larger reach with women (41% of women surveyed said they use Pinterest), while the male users is much lower (16% of men surveyed said they use it).
While statistics are important, the decision will ultimately come down to what works best for your business, customers and target audience.  Remember that social media isn't just about getting your name out there and inviting new customers; it is also about keeping your current customers and affiliates engaged.
For more information on construction business and marketing tips, stay connected with the HBW Blog.  To get ahead of construction activity and gain access to the latest permitting data in Florida, Texas, Georgia, Alabama and Oklahoma, contact HBW for more information on construction data reports and industry leads.