Almost anyone can secure a domain name and get their business online, but there are a few basic "must-haves" for getting the most out of your website.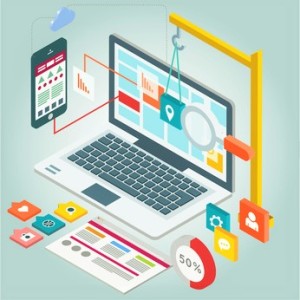 More consumers go online to get information about, well, pretty much everything.  The word "Google" has become a verb, and online listings and reviews can drive or deter traffic to and from your site.  In fact, the number of consumers researching products and services prior to making a purchase is on the rise.  According to Ad Week, 81% of shoppers conduct online research before making a purchase
When you reach out to a prospective client or HBW lead, chances are they are "googling" you as you speak.  Your website will often do the talking, and along with making sure it is updated and accessible, you will need to have a site that is engaging and easy to navigate.  To make that happen, you will need to cover the basics… Here are 7 basic website essentials to get you started:
Contact Information – Sounds basic enough, but we are not referring to just a "contact us" tab/page. Your business name and contact information should be on every page of your website.  Whether you choose to add it to the footer of each page or make your phone number prominent and displayed adjacent to your logo, it is important to make it easy to locate and contact your business.
Social Links – You may have an active following on Twitter or an informative Facebook page. That's great, but your website visitors may never know about it without links to your profiles.  Often, adding the social widgets to the header or top of every page will cover it.  Also, make sure that your site is listed and linked on your social profile as well.
Gallery – Your designs and projects are a must-see for your prospects. Having a clear and high-quality gallery on your website allows you a place to showcase your top projects.  Don't rely on Instagram alone.  Potential clients who are not connected to those social networks may not get the chance to see your newest kitchen remodel, recent swimming pool design or elaborate landscaping project if you don't have it front and center on your website.
FAQs – As an experienced construction professional, you have probably received your fair share of the same questions from various prospects. Save time in future conversations by offering clear and concise answers to the most frequently asked questions online.  Having answers readily available can assist in building confidence in your expertise, as well as putting any initial concerns at ease for the consumer.
Desktop and Mobile Versions – If you don't have a mobile version of your website, you may be losing visitors. The number of people viewing websites from mobile devices is significantly higher (51%) in comparison to the 42% of users who are viewing from a desktop (source: SmartInsights). By having a mobile version, you can make the user's experience from a mobile device or smart phone easy, as well as provide links to the most "wanted" content of your site.
Keyword Content – Along with the content on your website being up-to-date and relevant, your text and titles should have keywords that you use for your business and search engines. What are the most common phrases or words that a consumer might use when looking for your business?  Make sure those terms and phrases are included on the front-end of your site, as well as the back-end.
Dynamic Content – In previous articles, we have explored the importance of video and high-quality images that are vital to your marketing efforts. Dynamic content such as videos should also be embedded and available for viewing on your website.  Don't just keep them on your YouTube channel alone.  Including video on a landing page can increase conversion by 80%. (source: Hubspot)
Now that you have some of the fundamentals, remember to keep your website current and updated.  Add new and key projects to your gallery; update your services, and refresh your content as needed.  A well-maintained website may take a little time but will make a difference in converting a visitor to a client.
For more information on construction business and marketing tips, stay connected with the HBW Blog.  To get ahead of construction activity and gain access to the latest permitting data in Florida, Texas, Georgia, Alabama and Oklahoma, contact HBW for more information on construction data reports and industry leads.