From rewards programs to personalized communications, there are many ways to keep your customers engaged and coming back.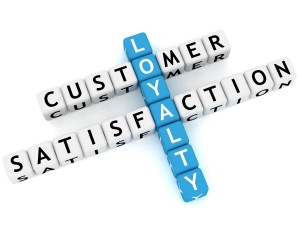 Repeat customers are one of the keys to business success.  To keep a business thriving, you must maintain a healthy client base, and to keep a healthy client base, you must offer service and communication that builds loyalty.  Just consider the Pareto Principle (a.k.a. 80-20 Rule)…  A successful business will predictably have 80% of its sales generated from 20% of its clients.  Yet, we still see so many businesses putting the majority of their efforts in engaging new customers, while neglecting the value of nurturing the relationships they have with current customers.
For HBW subscribers, new customers are readily available with every new construction permit report; so now that you have your prospects, here are 5 ways to build stronger relationships and loyalty with your current (and future) clients:
Quality Customer Service – This is at the #1 spot for a reason. The importance of high-quality customer service cannot be stressed enough.  Sure, your clients will remember your product or service; after all, many will be living with your final product for years to come.  Tangibles aside, your clients will remember one thing the most, and that is how they were treated.  They will remember how or if you took interest in their input.  They will remember how you were reliable and met their deadlines.  Your customers will remember how you (and your crew) handled their complaints or concerns. When it comes to communication, don't rely on technology to take care of a customer, and don't assume that no news is good news. Make a habit of checking in, and provide a clear point of contact (phone and email) for input and feedback. Show a genuine interest in what your clients express about their needs and be prepared to tend to them.
Train Your Crews – You can't mention customer service without mentioning employees. Beyond technical and safety training, your team should be prepared for and trained in client relations.  Your crews are the face of your company on site, and even if you are a phone call away, many clients will go to the first person they see when a concern arises.  Your crews should be trained in your policies, and all members should be aware of the timelines and expectations of each project.  Everyone on your team should be prepared for working with customers even if you do not expect them to interact with the client. They should be aware of your policies and how to handle potential issues. It takes just one bad encounter to turn a client away for good and one positive interaction to build loyalty points.
Rewards & Incentives – All of us know about loyalty and rewards programs. You probably have a handful of plastic "rewards" cards in your wallet, half of which you actually use.  For construction professionals, loyalty programs won't necessarily look similar to your typical card and points programs you see in a grocery store or restaurant.  Instead, home builders can use rewards programs in the form of discounts for repeat customers, discounts for referrals, gift cards for reaching a certain spending tier, and special "VIP" sneak peeks or early access to new products and designs.  You will also want to make sure to coordinate any incentive program with your marketing team so that your program for building loyalty with current customers aligns with your message to prospective customers.
Celebrate Together – Whether you recognize their birthdays, send personalized holiday cards, or offer special and custom packages to meet their needs during the holidays, make sure you show appreciation for their business. For your longstanding clients, don't be afraid to go a little above and beyond with a gift basket or flowers. For a new home or large remodel, a little house warming gift is a great way to share in your success and their new start.  A little recognition and gratitude can go a long way in building a long-lasting and solid relationship.
Educate – Communication with your clients shouldn't just be for sales and project maintenance. Good customer service also educates.  Whether you want to inform them of ways to maintain their new floors or ways to make a new installation last longer, educational materials are a great way to show that you care long after the job is completed.  Spring is a great time for spring cleaning tips, from landscape to air vents, while the rainy season is a perfect time to share severe weather safety tips and resources.  An educated customer will often appreciate and share what they have learned, easily making them brand advocates.   If you see an article or news story that applies to your client, share it with them.  Also, consider a regular e-newsletter or quarterly mailer that keeps them informed on topics that are both of interest and related to the services you provide.
Building customer loyalty is less about reminding clients of your services and more about becoming a reliable resource.  Solid customer service, reliability and honesty do more than simply build loyalty, they build your business.
For more information on construction business tips and industry updates, stay connected with the HBW Blog.  To get ahead of construction activity and gain access to the latest permitting data in Florida, Texas, Georgia, Alabama and Oklahoma, contact HBW for more information on construction data reports and industry leads.