Looking to make progress with your sales calls? Here are a few quick tips for maximizing phone time with potential clients.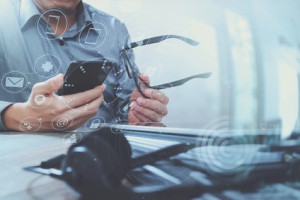 With email, texting and the rise of emojis, phone conversation skills may be falling short for many marketing and sales executives.  Although face-to-face contact is ideal, distance and busy schedules can make it difficult to get the face time you desire.  For this reason, knowing how to hold a valuable conversation by phone that leads to a meeting or even closing a deal is vital for the success of your business.  Here are a few tips for making the most of your phone time with prospects:
Verify Contacts – Your information on prospects is only of use if the information is current and valid. Having verified leads like those available through HBW construction data reports, will allow you to reach real prospects in less time, saving valuable resources and money.
Listen – Although it is easy to jump right in with a sales pitch, make sure you take the time to listen. Even if you think that you already have a clear idea of your contact's needs, ask more questions that elicit meaningful conversation rather than giving a speech.  You may offer every service ranging from new construction and landscaping to additions and remodeling, but the phone call is not the time to be an audio brochure.  On the phone, it is even more challenging to get a read on a person's disposition than in a face-to-face encounter; for this reason, allow time for them to respond so that you can truly tailor your offerings to their requirements.
Keep it Brief – Know your beginning, middle and end. What is the ultimate goal of your conversation?  Are your prepared for questions, and do you have succinct answers ready? If the purpose of your call is to introduce your services, offer to forward additional information about your business via email or mail, rather than go into a lengthy discourse. If your calling to close a sale, set an agenda and have the action items ready for confirming the scope of work and commencing the contract.
Avoid Pressure – While diamonds are formed under pressure, high-pressure phone sales will not always lead to precious treasures for your business. Unlike an in-person meeting, it is very easy for someone to hang up or say they have another call if your demeanor is too intense and lined with pressure.  When it comes to decisions regarding home building and remodeling, there is usually more than one party that will be involved in the decision-making process.  Rather than coming in with an "act now or else" approach, offer a no-obligation, complimentary consultation or review.
Don't Give Up – Let's face it, phone sales aren't easy, and not everyone has the desire or time for a phone conversation. Just because you are met with disinterest on your first call, doesn't mean that you don't have a potential client on the line.  There are a multitude of factors that can impact the success of a call ranging from timing to temperament.  For this reason, keep detailed notes and track your progress with each lead.  Even if phone contact isn't successful, other methods for communication (mail, email) may just be what finally piques their interest.  It's all about following up and following through, and one call won't do it all.
Remember, Rome wasn't built in a day, and neither was any one business.  By remaining steadfast and focused in your phone sales efforts and tracking your progress, you will be able to build your client portfolio one call at a time.
For more information on construction business and marketing tips, stay connected with the HBW Blog.  To get ahead of construction activity and gain access to the latest permitting data in Florida, Texas, Georgia, Alabama and Oklahoma, contact HBW for more information on construction data reports and industry leads.