Referrals are a key component to business development, and with a little extra effort, you can keep them coming.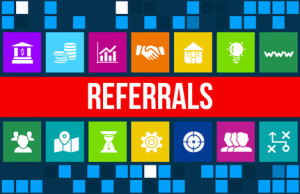 What goals have you set for the New Year?  Chances are that building your client base is on the top of your list.  For HBW subscribers, finding quality leads is just a click away, and to get the most out of those leads, you will want to build a long-lasting relationship with them.
Earlier this month, we explored methods for building customer loyalty.  Knowing that satisfied and loyal customers can be strong brand advocates, you may want to offer incentives for customers to be partners in generating referrals.  As most of us are aware, word-of-mouth advertising and referrals are like gold to business development, but don't just rely on your quality work alone to get the job done.  There are a number of effective ways to get the word-of-mouth ball rolling, and keep it rolling.  Whether a lifelong customer or just breaking ground, here are 10 ways to encourage clients to sing your praises and be partners in generating referrals:
Be Worthy – This one goes without saying, but quality work is a given in the referral process. Meet your deadlines and expected deliverables. Remember, people are usually referring you to friends and family, and they won't want to disappoint.  Make sure your crews and sales representatives meet the highest standards in client service and professionalism.  Not every job will run smoothly, but it is how you communicate and care for your clients that will be most memorable (and referable).
Offer Incentives – Not every business can successfully pull off a referral program without appearing pushy to clients.  A good start is for your program to be easy to understand and provide a benefit to both the client who refers and the prospect who follows through.  Make sure your program is clear about how they will benefit (i.e. 25% off your next design service) and when they will reap the reward. Make sure that your program includes actions and rewards that are both realistic and easily attainable.
Make Contact -Although it can be intimidating, reaching out to previous clients can be very useful. It is good practice to make a habit of checking in and/or following up with clients; it is during those "check-ins" that you can mention your referral program. Such conversations are easy with longtime and satisfied customers. If a direct ask for referrals is not your preferred approach, try incorporating a special promotion including a discount or additional service that you can offer in exchange for a referral, positive review or testimonial.
Educate – You can't expect clients to provide referrals if they don't know about all of the products and services you offer. If your client has only used your kitchen design and build services, make sure you inform them of your other interior or exterior building services.  Give them the tools they need to spread the word; it can be as simple as a single-page flyer, postcard or easy to remember web address to a list of services.
Offer Options – You may encounter clients who don't want to provide direct referrals, and in this case, try to supply other options and ways for them to recommend your company. Whether they agree to a testimonial on your website or a positive online review, their positive feedback is valuable.  Social networks like Facebook are a great place for a quick "five stars" or recommendation.
Provide Content – More than just having a flyer or special website for referrals, it is a good idea to provide useful content that clients and others can share. Some good examples include: Webinars on an industry-related topic; an article on industry trends; a monthly or quarterly e-newsletter; a video highlighting success stories and completed projects.  Whatever content you choose to develop and share, make it unique and remarkable.
Partner Up – Think about your vendors, and not just the ones that you use for project materials. From your business card printers to your web service provider, you have a pool of potential partners with whom you can exchange referrals.  It can be as simple as exchanging links or logos on each other's websites or as extensive as offering a percentage of profit on jobs completed.
Give Thanks – This one is more about keeping the referral ball rolling, not getting it started.  Take the time to thank your referral sources. Often a thoughtful handwritten note can be a small but meaningful way to show that you took the time to express your gratitude. A phone call may also go a long way.  Whatever way you choose to thank your referral source, make sure it is personal and that they receive it in a timely manner.
Get Involved – From industry groups and forums on LinkedIn to industry magazines and publications, there are a myriad of ways to get noticed and get people talking. Be helpful to someone with a remodeling issue or provide professional advice to someone looking to buy a home.  Whatever your specialty or expertise, give a little back to your audience, and you may be pleasantly surprised with a referral in return.
Refer Others – Giving a referral can often lead to a referral in return. Keep in mind that the business you refer will indirectly reflect on your own company, so choose wisely.  You should feel confident in the abilities of the business you refer, and it should share a similar target audience.
When it comes to developing materials and programs for referrals, there isn't a "one size fits all" design.  Start off small and see which methods are most successful and best received by your clients.  In time, your budding referral program will be a wide network that will add to your lead generating efforts throughout the year.
For more information on construction business tips and industry updates, stay connected with the HBW Blog.  To get ahead of construction activity and gain access to the latest permitting data in Florida, Texas, Georgia, Alabama and Oklahoma, contact HBW for more information on construction data reports and industry leads.