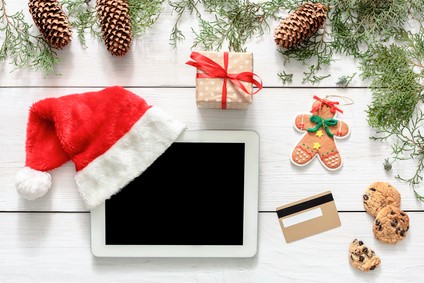 While it would be ideal for you to already be in the midst of your holiday marketing campaigns, some small business owners find it challenging to make it a priority.  After all, you have your own business to manage, holidays and vacation schedules to juggle and everything (and everyone) to keep on track during the holiday frenzy.  For those of you who are looking to expand your marketing efforts this holiday season, it's not too late.  Whether you had your campaign planned since last year or are just looking to give a little holiday boost to your marketing efforts, here are a few simple tips that serve both the ultimate planner and last-minute marketer this season:
Create a Gift Giving Guide – Don't worry, this one is not as extensive as it may seem.  Simply package a few of your top products or services and offer gift suggestions to your customers.  Start in December and send reminders and gift ideas each week.  Make sure if you give any holiday "special offers" that you define any necessary time limits or expiration dates.
Gift Certificates – In the construction industry, most services are custom and unique to a client, property and location.  For this reason, offer gift certificates for renovations/remodels, maintenance services or small upgrades that could serve as credit with your company.
Get a Holiday Makeover – Many of your products and services are already holiday-ready, but a little dash of creativity can give it the holiday twist it needs.  Perhaps you want to use the "12 Days of Christmas" or "Santa's Top Gift List" to engage your customers.  You can promote it on social media and reward random followers with the prize of the day or special offer.
Help Last-Minute Shoppers – During the final week leading up to Christmas, promote services and packages that can meet the needs of last-minute gift-givers.  Make it even better by providing an easy to download/print gift certificate or gift package description.
Holiday Greetings – Get in early on your holiday greetings.  With the many options for custom online card design/mail services, you can easily have holiday greetings sent to your customers (via mail) within the next week.  The earlier you get them out, the better chance you will have for getting noticed.
Create a Video – Along with holiday greetings, you can spread holiday cheer and wishes from your team by creating a fun video on YouTube.  A themed video that highlights a popular holiday song or plays upon a holiday story can be engaging and show the more personal side of your business.  Just remember to keep it professional.
Turn up the Lights – Depending on your office space and location, you may or may not have the space for this one but consider creating an impressive holiday lights display.  If you have a storefront, decorate the window in a way that showcases your offerings, as well as displays a holiday scene that provides unique photo opportunities.
Provide Holiday Prep Tutorials – Most of your clients (and prospects) will be preparing their homes for the holidays.  Give them the gift of guidance by offering a video, checklist or guide for getting their homes ready for guests, parties and holiday festivities.
Give Gifts – This may seem like a no-brainer, but giving gifts to your current or longtime customers is a great way to show them your appreciation.  Gift baskets, tickets to events or a gift certificate to a nice restaurant are usually unexpected but very welcome ways to wish them a happy holiday.
Ring in the New Year – As a construction professional, you offer a unique way to provide a fresh start for a home owner.  The new year brings opportunity to connect with customers and provide them with ideas for giving their home or office a fresh new look.  From landscaping services to interior design and build, investing in their home is a gift that will give back for many more holidays to come.
For information on construction business and marketing tips, stay connected with the HBW Blog.  To get ahead of construction activity and gain access to the latest permitting data in Florida, Texas, Georgia, Alabama and Oklahoma, contact HBW for more information on construction data reports and industry leads.