In an industry that is in desperate need for growth in its labor pool, it is critical to make the most of recruiting efforts.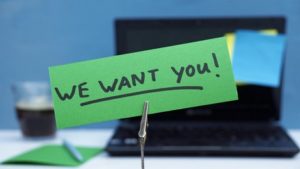 It's not a secret – The construction industry suffers from a shortage in skilled laborers.  And while there are a myriad of ways to develop and train certain technicians and laborers, attracting and retaining top talent can pose difficult challenges.  In addition to the limited number of qualified candidates available, your business may also face challenges in retaining the few that you may bring on board.  From construction managers and estimators to laborers and equipment technicians, here are a few easy tips for recruiting construction professionals:
Use Industry Networks – Whether you work through your local construction association or get involved with an industry publication, you can get your career opportunities noticed through industry-related groups. While casting a wide net with larger mainstream job bulletins will bring in a greater amount of job seekers, using industry-specific networks can be helpful in filtering candidates who have a true interest in construction.
Use Social Networks – Social media has become an effective way to recruit and spread the word about opportunities with your business. In addition to posting jobs on your website and sharing them within your own network, groups and recruiting tools on LinkedIn can be helpful for inviting job seekers and engaging candidates who have experience that directly fits your current needs.
Use Your Team – While hiring within is a great way to motivate your team and potentially increase performance, don't overlook your team's networks. Share job opportunities with your employees so they can share it with their contacts.  Most likely one of your own top team members has someone in mind for a new position or has a previous co-worker that would be interested in working with them again.  Offer a referral reward for anyone who is hired and retained.
Get Competitive – To attract top talent, you will need to offer a competitive package. Your next manager may not be actively seeking a new position, but if you put together a competitive compensation package, they may be willing to entertain new opportunities.
Use Your Time Wisely – Recruiting takes resources, and resources take financial investment. For this reason, you must use your recruiting time (and money) wisely.  Don't waste time interviewing as many candidates as possible.  Instead, use your filters and plan for preliminary interviews on a limited schedule.  Have a timeline for the new hire, from posting the ad to final interviews and decisions.  By having a clear schedule, you and your team can focus on recruiting efforts that are cost-effective and lead to the results you need.
While there are many ways to go about recruiting, using industry networks, the power of social media and following a detailed schedule will get you closer to finding the right candidate at the right time.
For more industry news and construction business tips, stay connected with the HBW Blog.  To get ahead of construction activity and gain access to the latest permitting data in Florida, Texas, Georgia, Alabama and Oklahoma, contact HBW for more information on construction data reports and industry leads.