An overview of the latest permit data for new residential construction in Texas during the month of August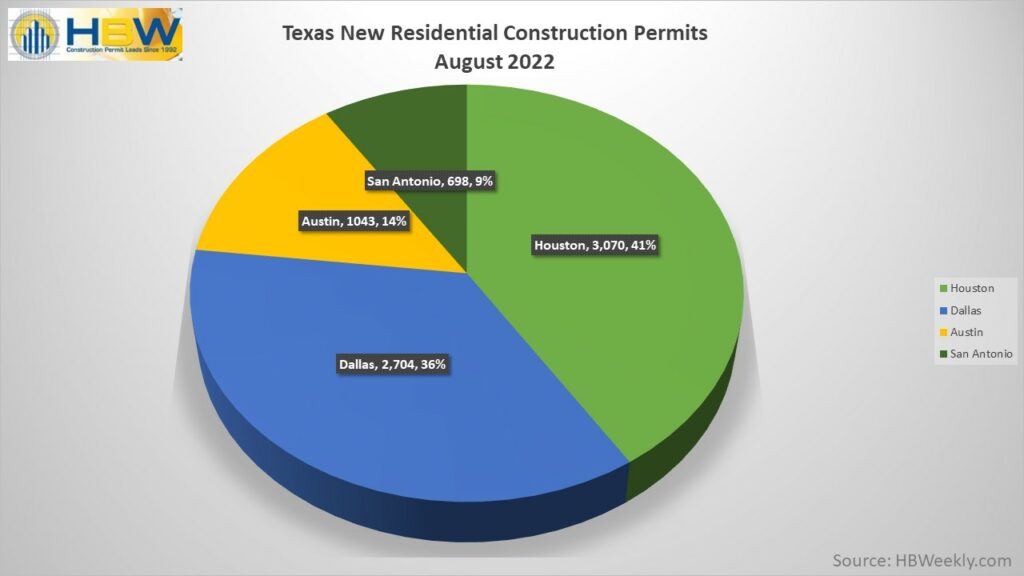 The latest construction data reports for new home construction in Texas are posted and available through HBW.  Based on those reports, there were 7,515 new residential construction permits with a total value in excess of $2 billion added to the HBW database last month for the Lone Star State (Houston, Dallas, Austin, San Antonio); this reflects a 33 percent month-over-month increase in new residential construction. 
Out of the four metro areas reviewed, the area with the greatest amount of new construction activity was Houston; with 3,070 new permits on record and a total construction value of nearly $734 million, Houston has demonstrated a month-over-month increase in new home construction of approximately 42 percent.
Not far behind Houston, Dallas ranked second highest for new home construction activity, having 2,704 new permits on record for the one-month period, followed by Austin (1,043 permits) and San Antonio (698 permits).
When looking at the average value of new home construction, Austin has continued its somewhat recent lead as it held an average value of more than $333k for new residential construction, followed by Dallas with an average construction value of approximately $287k.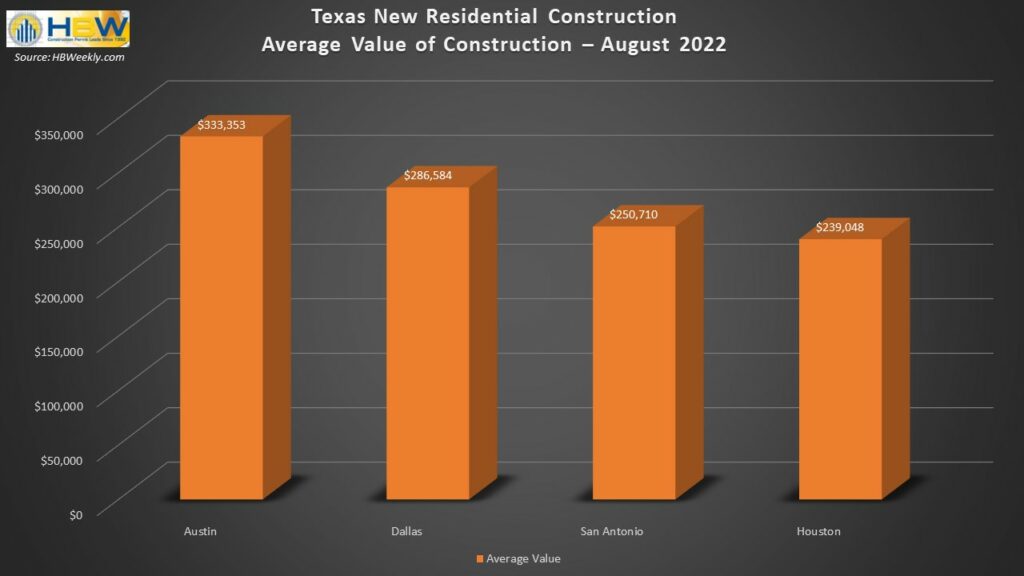 Out of the hundreds of active home builders with new permits on record with HBW last month, D.R. Horton and Lennar Homes continued to hold major power in the market, having 1,139 and 696 new permits on record respectively. Other top home builders with higher concentrations of new permitting activity throughout the state include KB Homes (239 permits) and Pulte Homes (253 permits).
To gain more information on the builders, homeowners and permits for the construction activity above, check out HBW for your copy of the latest construction data reports. To gain access to the HBW database and receive custom and detailed reports on the latest residential and commercial building activity in Florida, Georgia, Texas, Alabama, and Oklahoma, please contact HBW for details.