HBW Monthly Report: Florida New Residential Construction Update, February 2017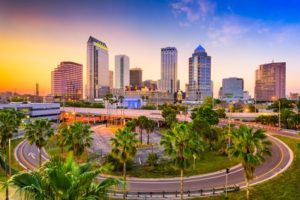 While Orlando was leading Florida for new residential construction in January, Tampa has been bustling and came out on top in February.  While every major region in Florida, with the exception of Orlando, experienced a month-over-month increase in housing starts, Tampa took center stage as it was up 13% since January with 1,183 new permits and approximately $316M in total construction value.  In Tampa, the counties of Hillsborough (401 permits) and Polk (369 permits) held the greatest amount of new residential construction activity, while the county of Pinellas had the fewest housing starts for the month.
Statewide, residential construction throughout Florida experienced a month-over-month increase of 8%, resulting in close to 4,700 starts and approximately $1.3B in construction.  Just behind Tampa and ranking second highest for housing starts in February is the southwest region; with a 21% month-over-month increase, the southwest had just about 1,080 housing starts and a total value in excess of $293M. Most counties across the southwest had substantial new construction activity, but more than half of all HBW permit data in Tampa originated from Lee (294 permits) and Sarasota (292 permits) counties.
Next in line, and having dropped a couple of spots since January, Orlando ranked third with more than 1,050 housing starts and nearly $309M in value last month.  The city-central county of Orange continued to be on top, both in Orlando and statewide, having 421 starts and approximately $141M in construction value.  The average value of construction in Orange County was higher than Orlando as a whole, coming in at $335k for the month.
Although Jacksonville and Southeast Florida did not have as many housing starts as other regions across the state, both areas experienced the greatest month-over-month increase.  With more than a 27% increase in residential construction activity since January, Jacksonville had 750 housing starts with a total value close to $176M.  And while the southeast portion of Florida doesn't have the highest concentration of new construction, it had both the greatest increase and greatest average value for housing starts.  Having experienced a 50% month-over-month increase in housing starts, the southeast had more than 600 new permits with a value of nearly $213M on file with HBW last month.  Nearly a third of housing starts in the southeast took place in Miami-Dade (~200 permits) where the average value of construction was $300k.
When looking at the average value of residential construction, the lineup has been consistent since the start of the year.  In February, the southeast remained on the high end of the spectrum with an average value of $352k, and Jacksonville continued to rank at the low end of the spectrum with an average value just over $234k.  The southwest region and Jacksonville have been the most consistent when it comes to construction value, as they have held just about the same average since the start of the year.  And while Orlando was down in total housing starts last month, it experienced a small 5% increase in the average value of new residential construction.
When it comes to counties, Orange County in Orlando continues to kick out new residential construction in greater volume than other Florida counties.  Orange maintained the #1 spot in February with 421 housing starts and just about $141M in total value.  Next in line was Hillsborough County (Tampa) which jumped up four spots since January and ranked second highest with 401 housing starts and approximately $132M in value.  Polk County has remained third highest for starts with 369 new permits on file, and St. Johns (Jacksonville) jumped up three spots to come in fourth highest with 360 housing starts in February.
Information utilized for the graphs and above listed figures for Florida residential construction was directly derived from HBW construction data reports. To gain access to the HBW database and receive custom and detailed reports on the latest residential and commercial building activity in Florida, Georgia, Texas, Alabama, and Oklahoma, please contact HBW for details.