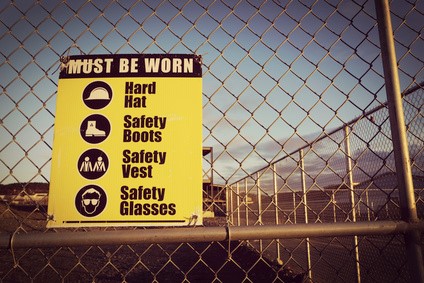 A trained crew is a safe crew, and safety should be a top priority your job sites.  According to OSHA, there were nearly 4,700 worker fatalities in private industry in calendar year 2016.  Out of those, 991 (21.1%) were in construction — In other words, one in five worker deaths last year were in construction. The leading causes of private sector worker deaths (excluding highway collisions) in the construction industry were falls, followed by struck by object, electrocution, and caught-in/between. These "Fatal Four" were responsible for more than half (63.7%) construction worker deaths in 2016, according to BLS. Eliminating the Fatal Four would save 631 workers' lives in America every year, and by eliminating those hazards on your job site you would significantly lower your risk of having a crew member become a statistic.
So what are the most frequently cited violations?  As reported by Federal OSHA for fiscal year 2017 (October 1, 2016 through September 30, 2017), the following were the top 10 most frequently cited standards:
With Fall Protection being the #1 most cited OSHA standard, it is important to have not only the proper fall protection equipment, but the proper training. Employers must be proactive and set up the workplace to prevent employees from falling from overhead platforms, elevated work stations or into holes in the floor and walls.
OSHA requires that fall protection be provided at elevations of six feet or greater in the construction industry, and fall protection must be provided to all employees working over dangerous equipment and machinery no matter the fall distance.
According to OSHA's website, there are a number of areas that an employer can address to prevent crews from being injured from a fall injury; those preventative steps are published as follows:
Guard every floor hole into which a worker can accidentally walk (using a railing and toe-board or a floor hole cover).
Provide a guard rail and toe-board around every elevated open sided platform, floor or runway.
Regardless of height, if a worker can fall into or onto dangerous machines or equipment (such as a vat of acid or a conveyor belt) employers must provide guardrails and toe-boards to prevent workers from falling and getting injured.
Other means of fall protection that may be required on certain jobs include safety harness and line, safety nets, stair railings and hand rails.
OSHA requires employers to:
Provide working conditions that are free of known dangers.
Keep floors in work areas in a clean and, so far as possible, a dry condition.
Select and provide required personal protective equipment at no cost to workers.
Train workers about job hazards in a language that they can understand.
While most employers do not have a large enough operation to conduct safety training in-house, it is still their responsibility to follow OSHA's standards and ensure crews are following proper safety procedures.  There are a number of training companies that can provide programs at your office or on the job, as well as develop safety policy and procedure for your team.  The investment made in training now will more than pay off down the line by avoiding costly penalties and heavy losses.  Another major benefit is that training can boost team morale and give your employees the confidence they need to focus on the job knowing that their employer cares about their well-being and work conditions.
For more information on construction business and marketing tips, stay connected with the HBW Blog.  To get ahead of construction activity and gain access to the latest permitting data in Florida, Texas, Georgia, Alabama and Oklahoma, contact HBW for more information on construction data reports and industry leads.