A quick guide to green building certification programs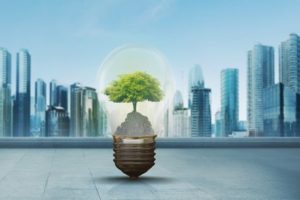 Sustainable construction – It's a growing industry that is slated to have a direct contribution to U.S. Gross Domestic Product (GDP) that will reach $303.5 billion from 2015-2018. (Source: USGBC) While construction is notorious for doing "business as usual" and not having much in the way of change in comparison to other industries, sustainable construction is appealing as much as it is necessary.  With the population increasing at an astounding rate and resources having their limits, well, you do the math. One of the great aspects of green construction is that you don't have to go big to get on board.  Sustainable construction can start as small as the products and materials used to as big as Net Zero Energy Building (NZEB).  Along with the obvious environmental benefits that apply to sustainable construction, it is also vital for creating resilient, high-quality buildings that can lower energy costs and create new jobs.
With green building applying to everything from building methods and materials to waste and post-project maintenance, we could easily go on for days on how to make a project "greener".  So for the purpose of having a starting point, here are a few basics to know about green building rating and certification systems to lead you to the right resource for making green construction an integral part of your home building business:
Green construction really started rearing its head in design in the 1990s, when the Building Research Establishment Environmental Assessment Method (BREEAM) was created.  The U.S. Green Building Council soon followed and developed criteria for improving the environmental impact of buildings through what most of us know as LEED (Leadership in Energy and Environmental Design), a rating system for new construction.  Since LEED gained popularity, other groups formed in response such as the Green Building initiative (GBI) by NAHB.
Green building ratings or certification programs cover construction projects as a whole, and they do not offer a one-size-fits-all framework; with each construction project being unique and bringing its own set of dynamic features, one rating system may be the perfect fit for one project and not applicable to another.  Additionally, some programs may be focused on a single attribute such as energy or water, while other programs may cast a wider net with a multi-attribute approach covering multiple areas such as emissions and toxicity.
Energy Star – Energy Star is a government certification that uses a benchmarking method and is managed by the U.S. EPA and U.S. DOE. According to their website, $362 billion have been saved on utility bills and 2.5 billion tons of greenhouse gases reduced since 1992 due to Energy Star.  The website offers a multitude of benchmarking tools, energy design checklists and resources that can guide builders through the process to earn the EPA's Energy Star.
LEED (Leadership in Energy and Environmental Design)  – LEED is a multi-attribute green building rating and certification system covering new construction, existing buildings (operations and maintenance), commercial interiors, schools, homes, neighborhood development and more. Managed by the U.S. Green Building Council, LEED has projects in more than 164 countries and territories (source: usgbc.org), and overall "LEED-certified buildings have 34% lower CO2 emissions, consume 25% less energy and 11% less water while having diverted more than 80 million tons of waste from landfills." (Source: USGBC)  LEED is the most widely used green building rating system and is based on a points system.  Put simply, the more points you earn, the higher your rating (certified, silver, gold, platinum). Points can be gained in areas including water efficiency, energy and atmosphere, materials and indoor environmental quality.  The website is a great resource offering everything from credentials and education for the individual to resources and guidelines for LEED construction at any stage of a building's lifecycle.
Green Globes – Green Globes Certification (Green Building Initiative) is a green building guidance and assessment program for existing and new construction and interiors. The certification process allows building owners and managers to choose sustainability features that best fit their building and occupants, and Green Globes recognizes projects that meet at least 35% of 1,000 points available to earn. Depending on how high the percentage of points earned, a property can achieve one to four "green globes".
NZEB – Net Zero Energy Building Certification uses the structure of the Living Building Challenge (by the International Living Future Institute) which can be applied to any building type. Net Zero Energy construction projects currently include some of the "greenest" buildings in existence today.  To be NZEB certified, a project must generate 100% of the project's energy requirements onsite through use of renewable energy.  Incentive programs, as currently listed on their website, are offered in California, Massachusetts, New York and Oregon.
Passive House Institute US – PHIUS is a non-profit organization with the objective of making high-performance passive building the mainstream market standard. Certified projects include single-family homes, multi-family apartment buildings, commercial and education buildings.   "Maximize your gains, minimize your losses" summarizes the passive house building approach with a focus on five building-science principles: continuous insulation without thermal bridging; airtight designs; balanced heat- and moisture-recovery ventilation with minimal space conditioning systems; maximization of solar gains for both heating and moderating climate. Visit their website to learn more about submitting a project for PHIUS+ 2015 Certification.
With the many green construction rating and certification criteria and systems available, it is easy to become overwhelmed and wonder where to begin.  Truth be told, a building does not have to be certified to be considered well-built and sustainable.  As previously mentioned, "green" efforts can start with something as simple as offering sustainable materials and energy-saving building options, appliances and/or equipment.  While energy efficiency and limiting one's carbon footprint doesn't require a certification, it is prudent to follow proper guidelines and refer to the various resources available by green building initiatives and organizations to make sure you put your best "green" foot forward in your next construction project.
For more information on construction business tips and industry insights, stay connected with the HBW Blog.  To get ahead of construction activity and gain access to the latest permitting data in Florida, Texas, Georgia, Alabama and Oklahoma, contact HBW for more information on construction data reports and industry leads.