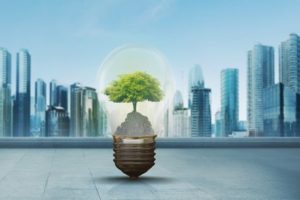 Earth Day is right around the corner (April 22, 2018), making it a great time to explore some ways that your business can go "green".  Along with the obvious benefits to our environment and future generations, a green business can often be a preferred business for clients.  According to a Nielsen global online study conducted in 2015, millennials are most willing to pay extra for sustainable offerings—almost three-out-of-four respondents.  Among global respondents willing to pay more, attributes such as a company being environmentally friendly, a company being known for its commitment to social value and a product being made from fresh, natural and/or organic ingredients ranked highest.
While you may already have your own earth-friendly building products, services and options, you should also take a look at your daily operations.  How "green" are your business practices?  Do you have incentives for employees to decrease their carbon footprint?  Do you recycle?  The list goes on, but the truth is that going "green" can simply be a matter of a few tweaks in how you use energy, paper and resources.  Here are a few easy ways to bump up your sustainability efforts in the office:
Recycle – From paper to plastics, it is easy to implement a recycling program for your office, building or corporate park.
Buy Recycled – While aiming for a paperless office is ideal, you will still need to use paper for certain documents and materials. Printing paper, napkins, paper towels and more are all offered in the form of recycled cardboard and paper goods.  Only Post-Consumer Waste paper is made entirely from the paper we place in our recycling bins. Making PCW recycled paper uses 45% less energy and creates half the waste of the traditional papermaking process. While you may pay a little more, it will certainly reduce overall waste.
Carpool Program – Depending on your location, a company-wide carpool program can be a welcome addition for employees who have hectic city commutes.
Fuel Efficient Fleet – For your fleet, consider adding low-emission and/or electric vehicles; it can reduce your carbon footprint and fuel expense.
Lighting – From office lights to outdoor lighting, consider using eco-friendly LEDs.
Cleaners – From the job site to the office, using biodegradable and natural cleaning products reduces your team's exposure to harsh toxins and chemicals, as well as reduces the introduction of such substances into the environment.
Beverages – Long gone are the days of Styrofoam and disposable cups in the breakroom. Also, single-use water bottles are a waste of plastic, and money.  Offer filtered water or a water cooler for employees, and consider stocking up on reusable coffee mugs, travel mugs, cups and drinkware adorned with your company logo.
Website – Yes, you actually can go green online. There is such a thing as green web hosts which are companies that host websites and are earth-friendly.  These companies may use renewable energy, plant trees, and/or buy renewable energy certificates to reduce or mitigate the environmental cost of running their servers and infrastructure.  Often, the cost difference is nil from other companies that are running their servers using fossil fuels.
Once you make a few powerful changes, your company can share your good green practices with your clients and community.  By making a commitment to the environment, you are flexing your company's social responsibility muscle and taking a step toward a sustainable future, and your next earth-conscious customer.
For more information on construction business and marketing tips, stay connected with the HBW Blog.  To get ahead of construction activity and gain access to the latest permitting data in Florida, Texas, Georgia, Alabama and Oklahoma, contact HBW for more information on construction data reports and industry leads.