Make the holiday season more than a time of giving by providing opportunities for you and your team to give back to the community.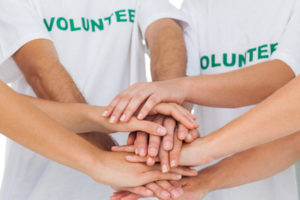 With Thanksgiving just less than one day away, it allows us the perfect opportunity to reflect on our gifts and ways we can give back.  The holiday season will entail plenty of gift giving, from family to employees, but some of the greatest gifts are less obvious than the holiday parties, ornately wrapped packages and annual bonuses.  As a business, being a member of and giving back to the community is not just a part of your social responsibility or another way to market your business; rather, giving back is simply the right thing to do, and the return is immeasurable.  According to a report by Cleveland Clinic, giving back provides great health benefits including: reducing stress, lowering blood pressure, lessening depression and extending life.
Not sure where to begin?  Here are a few ways you and your employees can share in "feel good" activities that give back to your community:
Volunteer – Every community has nonprofit organizations that are seeking volunteers year-round. While the food banks and soup kitchens are in need of donation sorting and meal serving, there are groups that are also looking for office and event volunteers.  Take the time to find the right partner and cause where your team can be most effective.
Sponsor a Fundraiser – Whether you choose a local 5k or a Holiday Gala, there are numerous local groups already holding fundraisers that your business can support. In addition to providing sponsorship, be sure to have your employees participate and volunteer to help before, during or after the event.
Get Hands-On – As a home builder, you are in a unique position to play a powerful role in a home building project. From Habitat for Humanity to leading a donated rebuilding project through you local builders' association, there are plenty of ways to bring your field and office staff off your job site and on to one that will change the lives of families in need.
Hold a Drive – From canned goods to clothes and toys, you can easily hold a collection at your place of business. Consider partnering with a local food bank for a canned food drive to collect goods they need most.  Additionally, Toys for Tots is always looking for new toys for children each year, and along with your team bringing in toys, your business can register to be an official donation/collection site.
By employees being part of a company with a purpose, they not only unite as a team – they unite with their community.  And while giving back can boost their sense of value and self-esteem, it can also give your business a boost of purpose that gives back well beyond the holiday season.
For information on construction business and marketing tips, stay connected with the HBW Blog.  To get ahead of construction activity and gain access to the latest permitting data in Florida, Texas, Georgia, Alabama and Oklahoma, contact HBW for more information on construction data reports and industry leads.