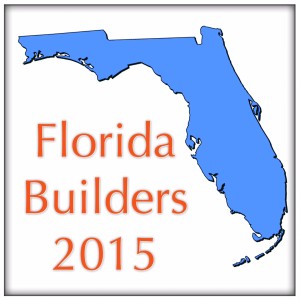 Earlier this week, our eye was on Texas and its residential builders, where D.R. Horton led for total housing starts in 2015.  When it comes to leaders in residential construction in Florida not much has changed.  When running reports for Florida from the HBW database, D.R. Horton takes the lead not only in Texas but in Florida too.  With more than five thousand new residential construction permits on file in 2015, D.R. Horton drove new residential construction in Florida last year.  In a not too distant second, Lennar Homes was strong with 4,637 housing starts on file, and Pulte Homes held onto the third spot with 2,769 starts.
To gain a more comprehensive perspective on the busiest builders in Florida last year, we have compiled a list of the "Top 20 Builders".  The Top 20 report is based on those builders with the most housing starts on file in the HBW database.  Results are based on the total number of new residential permits that were pulled throughout the year, with the top companies having the most new permits on record.
The results are in, and here are the Top 20 Florida Residential Builders of 2015:
D.R. Horton
Lennar Homes
Pulte Homes
GL Homes
The Villages of Lake Sumter
Taylor Morrison
KB Homes
Adams Homes
Mattamy Homes
Meritage Homes
Standard Pacific Homes
David Weekley Homes
Ryland Homes
WCI Communities Inc.
AV Homes
M/I Homes
Neal Communities
Beazer Homes
Maronda Homes
Dream Finders Construction Inc.
To view details on the number of new residential permits on file for each company, here is a graph highlighting totals for the above listed companies:
We congratulate all of the Florida builders who continue to drive our industry forward.  We wish you continued success in the New Year!
Information utilized for the graphs and above listed figures was directly derived from HBW builder data reports. To gain access to the HBW database and receive custom and detailed reports on the latest building activity in Florida and beyond, please contact HBW for details.