Hundreds of pool builders broke ground on more than 1,550 new swimming pools in Florida last month, and the southwest region led for total starts.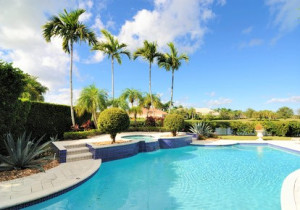 When you think of homes in Florida, you think of pools.  According to the HBW database, last month more than 1,550 new pools were started throughout the Sunshine State with a total construction value of nearly $68M.  While the southwest region led for total new pool permits for the month (516 permits, total value: ~$22.6M), the fast-paced southeastern portion of the state led for total average value (> $49k).  The southeast region was also ranked second highest for total swimming pool starts with 320 new permits and more than $15.7M in new construction on file for the area.  Coming in close behind, the Orlando area had 314 pool starts and nearly $12.6M in total construction value.
When reviewing the most active pool builders throughout the state, each area varies as some regions have new construction being widespread across several companies and others are led by a select few. For example, pool builders in Jacksonville saw a fairly even share of new construction with top companies having no more than 6% of the pool starts in the area, while companies like All Seasons in Orlando held 17% of the new pool permits in Central Florida.  Aragon Pools and Spas was a standout in the southwestern portion of the state last month with 65 pool starts and nearly $2.2M in construction value.
From a county-by-county perspective, it is evident that the highest concentration of new pool construction was somewhat scattered as well.  The top five counties ranged from the southwest, southeast and Tampa areas.  Collier County (SW) was #1 in the state for new pool construction with 185 starts for the month and more than $8.6M in construction value.  Also in the southwest, Lee County was second highest with 159 new swimming pool permits and nearly $6.6M in total construction value.  Palm Beach County in the southeast came in a close third with 122 pool starts for the month and a total construction value in excess of $6.2M.
The average value of pool construction in each area was in the $40k range statewide in July.  Southeast Florida was at the higher end of the spectrum with an average value of $49,120, and Orlando was at the lower end with an average value of $40,070 for the month.  The southwest region balanced just around mid-range with an average value of $43,773.
Information utilized for the graphs and above listed figures for Florida swimming pool construction was directly derived from HBW construction data reports. To gain access to the HBW database and receive custom and detailed reports on the latest residential and commercial building activity in Florida, Georgia, Texas, Alabama, and Oklahoma, please contact HBW for details.