If you are looking for the latest on new swimming pool construction in Florida, look no further than the HBW database.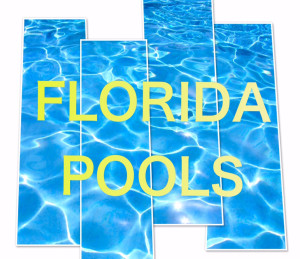 With 1,300 new pool permits added to the database in December alone, the Sunshine State is teeming with pool construction activity.  Although permitting activity dropped slightly statewide since November, Jacksonville experienced a 6% increase in swimming pool construction, while several top counties also spiked in activity.  The southwestern portion of the state continued to lead in swimming pool construction with 418 new permits in December and a total value in excess of $16.6 million.  Just as in November, the southeast region and Orlando held the second and third spots for new pool construction for the month.
When viewing swimming pool construction throughout the state, a few counties continued to shine.  Palm Beach County has not only been most active in residential construction for the southeast region in recent months; the area also experienced a 14% increase in swimming pool construction in comparison to November, with 139 new permits and $5.5 million in value.  Dropping from #1 to #2, the county of Lee (southwest) experienced an 18% decrease in swimming pool construction since November but was still second highest with 134 permits and nearly $5.4 million in total value.  In the third spot, Collier County (southwest) was up 12% since November and had 108 new permits on file and a total value of more than $4.7 million.
With all of the new construction taking place, we would be remiss if we did not take a look at the swimming pool builders who drove the figures in each region.  Here's a look at the top builders for each area and the number of pool permits on file for each company in December.
| | | | |
| --- | --- | --- | --- |
| REGION | COMPANY | TOTAL PERMITS | TOTAL VALUE |
| Orlando | All Seasons | 48 | $1.3 million + |
| Southwest | Aragon Pools & Spas | 46 | $1.5 million |
| Southeast | A & G Concrete Pools | 23 | $866k |
| Tampa | All Seasons | 17 | $432k |
| Jacksonville | Stanley Pools | 7 | $255k |
Across the state, here are the Top 5 companies for total permits on file for December:
Information utilized for the graphs and above listed figures was directly derived from HBW builder data reports. To gain access to the HBW database and receive custom and detailed reports on the latest building activity in Florida and beyond, please contact HBW for details.