A list of construction industry expos and events taking place in early 2019.  Plan ahead and save the dates.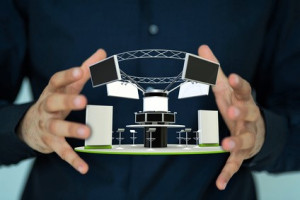 Earlier this year, we highlighted various industry expos and events to get on your calendar and plan ahead.  This week, we are looking even further ahead so that you can get a better jump start on your planning for early 2019.  If you have attended any events in the last few months, you probably have a better idea of what works and doesn't work for your presence on the trade show floor, and by learning from this year, you have a chance to fine-tune your marketing efforts and budget to make the most of similar events in the future.
In continuation from our last post: "Construction Industry Events and Expos 2018", here are few more conventions and expos to add to your list for review:
Building Innovation Conference & Expo – Washington, DC 
When: January 7-10, 2019
Where: Mandarin Oriental Hotel
The National Institute of Building Sciences Seventh Annual Conference and Expo (2019) is designed to explore strategies that are aimed at Optimizing for Tomorrow.  Last week, the Institute called for abstracts to present at Building Innovation 2019; click here for more on the process.
The International Surface Event – Las Vegas, NV
When: January 22-24, 2019
Where: Mandalay Bay Convention Center
TISE is made up of three world-class trade shows: SURFACES, StonExpo/Marmomac and Tile Expo events.  It is one of the most comprehensive events in the industry and features four days with 450,000 square feet of products, hands-on demos, industry trends, over 800 key manufacturers and industry suppliers, plus educational programming.
International Builders Show – Las Vegas, NV 
When: February 19-21, 2019
If you attended IBS this year, you already know that the next one is scheduled for early next year. The NAHB International Builders' Show® (IBS) is the largest annual light construction show in the world.  In 2018, the show welcomed 60k visitors representing 100 countries.
 NFB Frame Building Expo – Lousiville, KY 
When: March 6-8, 2019
Where: Kentucky International Convention Center
The National Frame Building Association's (NFBA) Frame Building Expo is the premier event for post-frame professionals.  At the Frame Building Expo, everything you need to build your post-frame business is assembled under one roof.
RCI International Convention and Trade Show – Orlando, FL
When: March 14-19, 2019
Where: Rosen Shingle Creek Resort
RCI's premier annual event features over 25 hours of educational seminars, live product demonstrations, and a two‐day trade show with over 140 exhibitors.  There are plenty of opportunities to meet with members, discover new developments in building envelope technology, and earn a full year's worth of continuing education credit.  The 2018 event featured over 1,600 attendees.
Associated General Contractors of America (AGC) EQUIPMENT, TECHNOLOGY & CONSTRUCTION SOLUTIONS EXPO – Denver, CO 
When: April 2-4, 2019
Where: Colorado Convention Center
Join more than 200 exhibitors and 2,500 attendees from across the construction industry for the 2019 AGC Equipment,Technology & Construction Solutions Expo that will be held in conjunction with the 100th Annual 2019 AGC Annual Convention.
 INTEX Expo – National Harbor, MD 
When: April 25-26, 2019
Where: Gaylord National Harbor Resort & Convention Center
INTEX Expo is the largest trade show specifically catering to the wall and ceiling industry. All market segments are represented including but not limited to: drywall, ceilings and acoustics, lath and metal framing, plaster, EIFS, insulation, software.
For more information on construction business and marketing tips, stay connected with the HBW Blog.  To get ahead of construction activity and gain access to the latest permitting data in Florida, Texas, Georgia, Alabama and Oklahoma, contact HBW for more information on construction data reports and industry leads.