With more than 5,300 housing starts in the first quarter of 2017, most of the metro Atlanta area is on an upswing since the start of the year.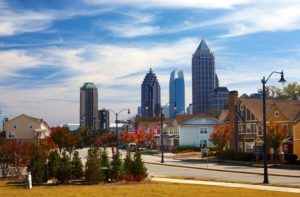 Atlanta and its surrounding counties are off to a stellar start in 2017.  In Q1, metro Atlanta and surrounding areas have experienced a 6% increase in housing starts in comparison to 2016, and some of its larger counties (i.e. Fulton and Cobb) had year-over-year (Q1) increases ranging from 20% to more than 40%.
While Gwinnett County had the greatest number of housing starts (825 permits) in comparison to other metro Atlanta counties, it has some catching up to do when looking at 2016.  In Q1, Gwinnett is slightly behind, reflecting a 6% decrease in new residential construction in comparison to the same time last year.  That being stated, there is still plenty of time to catch up or even surpass previous figures.
One area that is ahead and ranked second highest for total permits is Fulton County.  Along with being Georgia's most populous county and the only county with over one million inhabitants, Fulton is ahead of 2016 by 20%, having nearly 600 new permits on file with HBW in Q1 alone.  The area had been on an upward growing trend in new residential construction from 2012 to 2015, and while 2016 reflected a drop in housing starts, the first quarter of this year is showing signs of recovery.
One county that is not off to an advanced start but still carries a higher concentration of new permits is Forsyth County.  While the area had more than 550 housing starts in the first quarter of this year, it has experienced just about a 30% decrease in residential construction activity in comparison to the start of 2016.  As previously mentioned, there is still plenty of time left in the year to see if the decrease is a pattern or just a slower quarter for the county.
When shifting our perspective from totals to overall growth, a few other Georgia counties come on to our radar, such as Newton County.  While on the smaller side for population and density, Newton County has been increasing in residential activity over the last five years, and in Q1 it had the highest increase in new permits of any county reviewed. With an 87% increase in residential construction in comparison to Q1-2016, there were more than 100 housing starts on file for the quarter.
Another noteworthy county for growth is Cobb.  With 377 housing starts in Q1, Cobb County is ahead of Q1-2016 by a whopping 43%.  While new residential construction was slower in Cobb County in 2015, last year was promising as it had experienced a year-over-year increase of more than 60% in housing starts.  And in 2017, the area appears to be continuing the growth trend.
In the higher value markets (>$500k), the usual players are on the leaderboard.  Fulton County leads with 70 homes valued over $500k in Q1-2017, and the counties of Cobb and Dekalb are also holding their positions from 2016 as they continue to rank in the top three spots for higher value residential construction in Metro Atlanta.
Information utilized for the graphs and above listed figures for metro Atlanta residential construction was directly derived from HBW construction data reports. To gain access to the HBW database and receive custom and detailed reports on the latest residential and commercial building activity in Florida, Georgia, Texas, Alabama, and Oklahoma, please contact HBW for details.