HBW Insider: Florida New Swimming Pool Construction Report through Q2-2017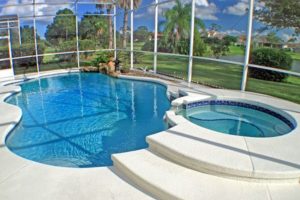 New swimming pool construction is only getting better for Florida-based builders.  Through the second quarter of 2017, new pool construction is up 6% in comparison to the same time last year, resulting in more than 12,000 new permits in the HBW database.
Upon review of the latest Swimming Pool Construction Activity Trend Report from HBW, here are seven insider highlights that provide a summarized and closer look at where new swimming pool permits are available and growing:
Every Florida area reviewed, with the exception of the southwestern region, experienced a year-over-year increase in new pool construction ranging from 4% to 12% through the second quarter. The southwest portion of the state remained steady and consistent with last year, neither increasing nor decreasing in activity.
The greatest year-over-year increase in new pool construction could be found in the northern region at a 12% gain. The western region had the second greatest increase through Q2 at 11%.
Out of the six regions reviewed (Central, West, SE, SW, NE, NW), Southwest Florida had the greatest total number of pool starts through the second quarter of this year with 3,050 permits on file with HBW.
Lee County (SW) is the #1 county in the state for total new swimming pool permits. With just over 1,000 starts, there has already been an 11% year-over-year increase in new pool construction in Lee County.
Other counties with high concentrations of new pool construction include:

Orange County, Central FL (806 permits, +7%)
Palm Beach County, SE (800 permits, +3%)
Collier County, SW (739 permits, +2%)
In comparison to 2016, the greatest % of growth in new swimming pool construction through Q2-2017 could be found in counties including:

Pasco County, West (+35%)
Clay County, NE (+25%)
St. Johns County, NE (+23%)

While Florida is seeing increases in new pool construction overall, a couple of areas have undergone a dip in starts since last year and include the following counties:

Sumter County, West (-23%)
Manatee County, SW (-21%)
Broward County, SE (-14%)
HBW will continue to monitor new construction patterns closely and provide monthly and quarterly reports to keep you in the know. To gain access to the HBW database and receive custom and detailed reports on the latest residential and commercial building activity in Florida, Georgia, Texas, Alabama, and Oklahoma, please contact HBW for details.