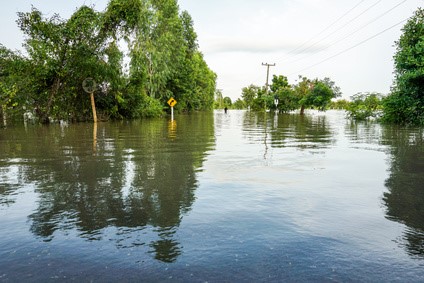 As most of us are aware, Hurricane Season runs from June 1st to November 30th each year. This means that we are now more than halfway through the season, and for Florida, Hurricane Ian has reminded all of us how powerful and destructive these storms can be. As I write this, in the wake of Hurricane Ian, more than 1.9 million homes and businesses in Florida are still without power; that is down from more than 3.5 million power customers affected by Ian since it hit Florida's West Coast on Wednesday.
Beyond power loss, the widespread destruction to homes and properties, as well as unfathomable flooding (700+ water rescues so far), will require a long and heavy recovery process. On top of that, a resurgent Hurricane Ian is currently making a second landfall in South Carolina, where power outages were starting to grow as the storm approached.
And while many construction industry professionals will be carrying a heavy load of responsibility in this recovery process, it is important to not lose sight on how preparation can better position all of us for these extreme weather events. As a construction industry professional, weather conditions hold significant importance to your job sites, crews, and clients, even more so than other industries.  Safety and communication are crucial in managing clients' expectations and employees. For this reason, it is prudent to be ahead of the weather by reviewing your safety plan and implementing some basic guidelines:
Prepare Clients – When executing a contract, it is best practice to have a clause covering the possibility of delays due to natural forces and unforeseen circumstances.  Although it may be in the fine print, it is crucial that you make sure your clients understand the potential implications of severe weather conditions on the project and construction timeline. Managing expectations is paramount in maintaining a quality and long-term relationship with your clients. Be upfront and direct about the possibility of delays due to weather while communicating your plans and intentions for following through on the original and proposed timeline. Such delays will also directly impact other outstanding projects, so balance your schedule and communicate realistic expectations with all clients who may be affected.
Once the storm has passed, have project managers touch base with clients of open projects. Don't wait for damage to be reported to you. When it's safe, work to get your teams on your job sites to assess and document damage (if any) and report back as soon as possible. Additionally, you can keep your clients' minds at ease by communicating what you will be doing and keeping them informed with status updates.
Prepare Crews – If you don't already have a weather safety plan and guidelines for your crews in place, creating a plan should be a priority. In addition to foremen and crews demonstrating a clear understanding of all safety regulations and equipment, job sites should be properly outfitted with safety instructions, tools, and gear. Provide crews with a checklist for securing the site in the case of severe weather. Take time each year to review your plan for applicability and effectiveness. Consider adding additional training or tools. With September being National Preparedness Month, Ready.gov has many resources you can use to create or revise your current Disaster Plan, as well as tools for preparing and recovering from flooding and hurricane damage.
Prepare Office – Beyond securing property, technology, and equipment, your office will benefit from a proper plan for managing employee communication, evacuations, office equipment and more. You will want to assess all possible hazards that exist and could potentially have an impact on operations. Designate lead points of contact for every department early in the process, along with proper distribution of an emergency call tree.
Once the storm has passed, have the department leaders check in with all employees on their safety, as well as their ability to return to the office. Be clear about office hours, the status of your job sites and facilities, as well as any support your company may be providing for employees during recovery.
Being ready for severe weather is more than safety kits, canned food, water, and flashlights. For construction business owners, there are various levels of liability, extending from the job site to the office. By having a comprehensive plan in place, you can provide a sense of security for employees and clients during the uncertain and stressful conditions resulting from extreme weather events.
For more information on construction industry trends and business tips, stay connected with the HBW Blog. To get ahead of construction activity and gain access to the latest permitting data in Florida, Texas, Georgia, Alabama and Oklahoma, contact HBW for more information on construction data reports and industry leads.