Red algae bloom threatens the coastlines of Lee and Collier counties, causing rental and investment revenue to plummet.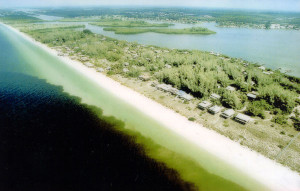 A recent report by the Florida Realtors organization found that discolored coastal water can suppress property values and even force homeowners to sell at a loss. Property values in Lee County were suppressed by almost $1 billion each year because of the poor coastal water quality.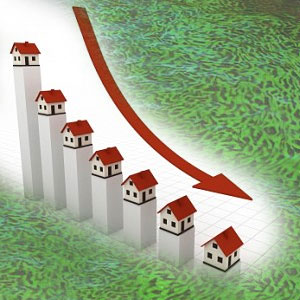 Lee County property values plummet due to bad water. Photo courtesy of Caloosahatchee News Press.
Improved coastal water would increase property values in Lee County by over $500 million, with property values in neighboring Martin County likely to jump $428 million. The Lee County Appraiser's Office reports that a $500 million increase in property value has a taxable value of $54.6 billion, which would generate $9.2 million in property taxes annually.
The report identifies smelly, toxic, red algae blooms as the main culprit in a chain reaction of poor water quality. "What is happening is that, while one algal bloom is not alarming in isolation, the recurrence of the algal blooms on a regular basis is showing up in the one-year models," it says, "This regular recurrence is what is concerning home buyers and sellers. That is, a one-time event may not have a detrimental effect, but multiple times is a big problem."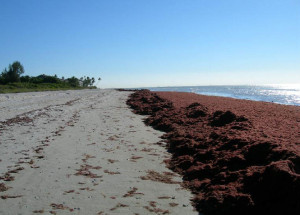 Red Algae at Fort Myers Beach. Photo Courtesy of Lee County.
The major contributor to the red algae blooms is excess phosphorus and nitrogen from over use of lawn fertilizer have washed into the coastal waters from the local Caloosahatchee watershed. Water from the Lake Okeechobee discharge also carries excess phosphorus and nitrogen that gets swept into the coastal estuary. Red algae feeds off of the excess chemicals and releases toxins in the water that cripple the estuary, kill thousands of fish, scare off tourists, and force health officials to close beaches.
A secondary contributor in the poor water quality is the phosphorus-eating cyano bacteria Lyngbya, which clumps onto sea grasses and chokes off the oxygen supply to the roots, killing the grasses. Dead grass washes up from the estuary bottom and onto the shoreline in massive, gooey clumps and releases yet more algae-lving nitrogen into the water. When algae and lyngbya are blooming, water visibility maxes out at a paltry six inches. Cloudy, clumpy water degrades property values.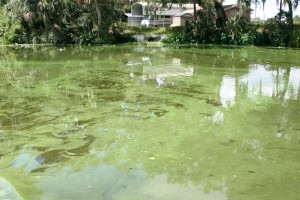 Algae in Fort Myers. Photo courtesy of Earthjustice/John Cassani.
Researchers began the study last summer, only finishing their field work earlier ths year. All of the waterfront homes along the Caloosahatchee River at Franklin Lock and Dam to San Carlos Bay near Fort Myers Beach were surveyed. Report findings state unequivocally that "what was clearly found was that the ongoing problem of polluted water in the Caloosahatchee and St. Lucie rivers and estuaries has indeed resulted in a negative impact on home values."
Locals had speculated on the negative impact water quality has had upon the tourism industry, but the Florida Realtors are the first organization to undertake a scientific study to quantify the problem. The purpose of the report is to examine how potential home buyers and sellers perceive the ambient water quality.
Home valuation based on sales from 2010 to 2013, chlorophyll-a readings, turbidity, and dissolved oxygen levels were some of the metrics used in the study. While short-term rentals may not be as badly impacted by algal blooms that clear up in a matter of weeks, long-term sales and investment are driven down by Lee County's reputation for toxic, nasty, dangerous water events.