New swimming pool construction permit data is now available in the HBW database.
During the month of February, more than 1,925 new swimming pool construction permits with a total value of $142.2 million were added to the HBW database for Florida. From total permits and average value of construction to leading counties and contractors, here is a quick overview of the latest data on record for new pool construction in the Sunshine State last month: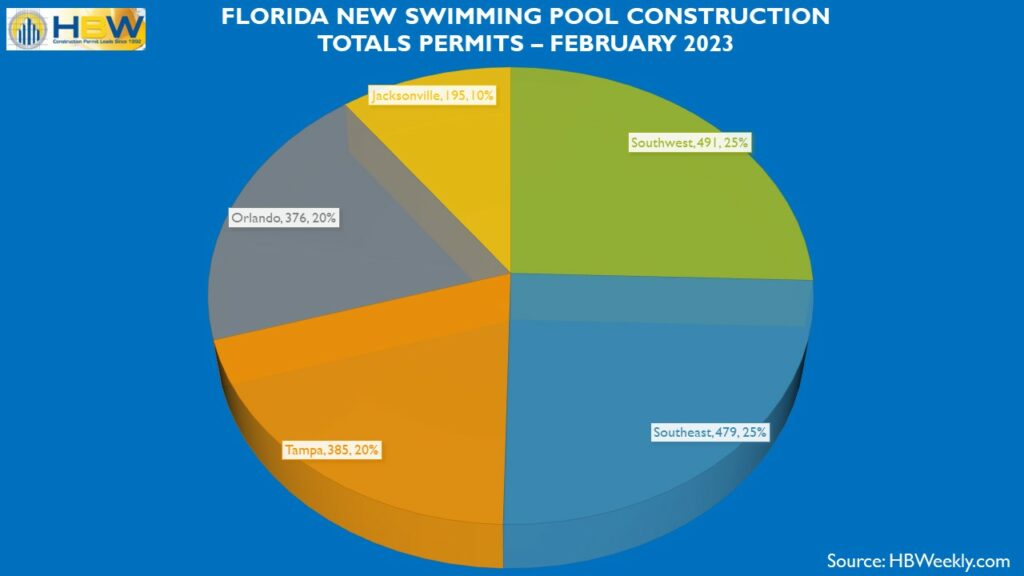 Permits
Out of the five regions reviewed (Southwest, Tampa, Orlando, Jacksonville, Southeast), the highest concentration of new pool construction activity could be found in the southwestern region of the state (491 permits), while the fewest permits originated from Jacksonville (195 permits). When looking at the average value of construction in each region, Jacksonville (average value: $105,424) took the lead with the highest average value of construction, while the lowest average value could be found in Orlando (average value: $63,593).
Top Counties
Approximately 30 counties were accounted for in the latest regional construction data reports, and the following ranked as the top five statewide for total new permits on record for the one-month period:
Palm Beach County (Southeast) – 165 permits
Lee County (Southwest) – 143 permits
Hillsborough County (Tampa) – 142 permits
Orange County (Orlando) – 140 permits
Polk County (Tampa) – 112 permits
Top Pool Builders
Last month, there were hundreds of contractors with new swimming pool construction permits on record with HBW, and the following ranked as the #1 pool builder (based on total permits) in each of the five Florida regions:
Orlando: Bob's Pool Service (65 permits)
Tampa: Bob's Pool Service (58 permits)
Southeast: A&G Concrete Pools (26 permits)
Southwest: Pinnacle USA (25 permits)
Jacksonville: Epic Pools & Hardscape Construction (13 permits)
To gain more information on the builders, homeowners and permits for the construction activity above, check out HBW for your copy of the latest construction data reports. To gain access to the HBW database and receive custom and detailed reports on the latest residential and commercial building activity in Florida, Georgia, Texas, Alabama, and Oklahoma, please contact HBW for details.