HBW subscribers in South Florida aren't surprised to discover that the Miami housing market is rated tops nationwide. In the most recent update of the Case-Schiller Home Price Index, the Miami and Denver housing markets were singled out as top performers. Home prices in both markets rose more than 8 percent during the past year, a growth rate unparalleled by any other city tracked by the index. According to the index, "Denver and Miami reported the highest year-over-year gains, as [home] prices increased by 8.4% and 8.3%, respectively, over the last 12 months." National prices averaged a 4.5 percent increase in January 2015 as compared with the year-over-year percentage of 2014.
The Miami/South Florida real estate market rose by 8.3 percent in 2015, which was the second-largest gain of any city in the index. The Miami market was also a top performer on a month-by-month basis, with prices increasing 0.7 percent between November and December 2014, and increasing again by 0.7 percent from December 2014 to January 2015. The gains are due to the rapidly dropping housing inventory in the Miami metro area, combined with the steady demand for housing during the beginning of 2014, which rose significantly later in the year.
Graph Courtesy of the Home Buying Institute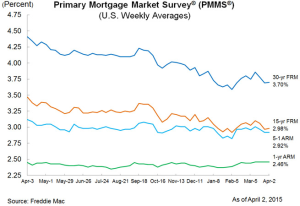 With new construction and stabilizing pressure applied by the tapering-off of the job market, supply and demand are better balanced in the housing sector. According to Realtor.com's recent report, the total number of Miami homes listed declined by 3 percent over the last 12 months, while other metros experienced a decline of 20 percent or more. The Miami housing inventory of newly-built and pre-existing homes has been relatively stable over the past year.
Miami's stable housing market is predicted to slowly cool off during 2015, with South Florida reflecting the same trend more broadly. Current trends indicate that the market will make more modest gains for the coming year. In Zillow's 12-month forecast for the Miami-Fort Lauderdale metro area, home prices are projected to rise only 1.3 percent, as compared with the 11.7 percent gains of last year.
Demand for housing is projected to remain steady as low mortgage rates and an improving job market continues fo fuel home sales in the Miami housing market. Miami's unemployment rate was 5.5 percent in January of 2015, which is half of the recession peak of 11 percent in 2010. The market's home buyers are more well established than they have been in recent years. Long-term mortgage rates are languishing well below 4 percent, which makes home loans attractive to potential buyers. Long-term mortgage rates are expected to remain low for the foreseeable future.
HBW serves builders in Alabama, Georgia, Texas, Florida, and Oklahoma. In addition to our Building Trend Activity for Residential Construction Reports, HBW can create a number of custom reports for any need you might have. We also offer exclusive White Paper Reports to help you market your business. White papers start by giving an overview of the trends in your area and then advice on how to turn your weekly building permit information subscription into successful business leads. To show you how we can help your business succeed, HBW is glad to provide you with complementary building data report or one of our specialized White Paper Reports. Contact us today and start making your business more profitable!