When attending a trade show, plan ahead so that your business gets the most out of the experience.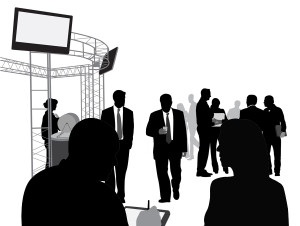 There are countless articles that communicate the benefits of and provide guidelines for exhibiting at trade shows.  Just google "trade show booth preparation", and you will come across everything from display designs and products to sales strategies and presentations.  Vendors know the benefits of exhibiting at tradeshows.  They have one place to reach their target audience face-to-face, nurturing client relationships and finding new ones.
On the other hand, contractors are inundated with invitations, notices, emails and mammoth glossy mailers inviting them to the next "best of" show, and through all of the commotion and promotion it may be difficult to identify the benefits of attending.  Although attending every construction-related trade show is simply unrealistic, you should consider planning ahead and adding a few to the calendar.  Contractors can reap major benefits, aside from the random raffles and freebies.  Trade shows are a great way to network within your industry, gain new insight and stay informed of trends and your competition.   So, let's get started:
Check the Budget – Too often we book events with at the last minute, keeping our calendar open for business. Unplanned trade show expenses do not help the bottom line, so be sure to budget for trade shows well in advance. Beyond event fees, there are costs to consider: Travel to and from (airfare, rental car); lodging (hotel, tips, parking); dining (consider a stipend or fixed budget for employees); seminar and program fees.  Make sure you include all team members who may be attending, # of days attending and any additional costs for related events such as banquets and luncheons.
Plan in Advance – Once the budget is in place, begin booking. Making plans early will increase the likelihood of being able to take advantage of room blocks or other discounts that the event host and related entities are offering.  If you are bringing family with you, look into area partners that may be offering local attraction discounts.  Trade shows often offer programs for spouses and children. Have your office contact the host in advance to secure spots, and consider offering the benefit to your team members.  If you are limited on time and only have a day or so available to attend the event, contact the host to find out about traffic patterns; plan on attending the day(s) when attendance is at its peak.
Put On Your Networking Hat – Vendors are not the only ones who should stock up on business cards before a trade show. Contractors have the ultimate opportunity to build relationships and gain firsthand knowledge about their competitors.  Get feedback from them on what they are experiencing in the industry and how their company deals with challenges. Truth be told, you may not always get straightforward responses and answers from competitors, but it is good business to take the time to connect with them and share information about the market and industry trends. When walking the floor, have a plan.  It is easy to get distracted with offers, friendly faces and the crowd.  If there are vendors that you want to make a point to see or certain products you want to explore, use the program and map to mark the booths you plan on visiting; check them off as you work your way through the aisles.
Gain Knowledge – Check out the educational programming that may be available. Most shows will offer a variety of industry-specific trainings and seminars.  Often contractors will just enroll in any seminar that will meet their continuing education requirements.  Try not to follow the credit; take time in choosing seminars and reading about the instructors and classes.  Look into topics and subjects that are both of interest to you and have the potential for making a positive impact on your business.  If there is a new product on the market that has your attention, find out if there will be a product demonstration or training.  Trade shows are a great time to discover industry advances and the latest technologies available.  We can refresh and find inspiration in new equipment and methods for managing data and job sites.  Be open to new ideas and technology.
Mark Your Calendar – Although you probably have an inbox overflowing with trade show invites, you may not have taken the time to mark your calendar for those you will be attending. Here are a few conventions and trade shows to check out for 2016:
Plan ahead to ensure that you and your team get the most out of the event.  Once you have attended a trade show, make an effort to meet with your teams to share and discuss new technologies, trends and contacts you have gained as a result of attending the show.  Define follow-up and action items and assign them to the appropriate team members so that your business can reap rewards long after the expo floor closes.
HBW serves contractors and construction/design professionals in Alabama, Georgia, Texas, Florida, and Oklahoma. HBW offers the most current building trend and permitting activity reports, along with White Papers to assist in your marketing efforts. Contact us for a complimentary building data report or white paper today.