As a busy contractor, it is important to have a contact management system in place that allows you to access leads on-the-go.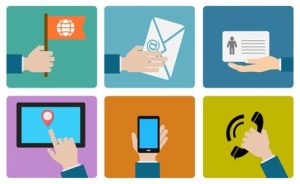 Last week, we posted about areas to consider when taking the next steps with your newly acquired HBW leads.  In our fast-paced, high-tech, highly mobile lifestyles, it is important that we review key components for easily managing leads away from the office.  As contractors, our office space is usually split somewhere between the office, vehicle and job sites.  For this reason, it is important to have a leads and contact management system that is accessible from any location and through a variety of devices.  Laptops are great but not ideal for every location, so when looking for a CRM (Customer Relationship Management) system or a simple contact management app, there is more to consider than just which one to use.   Depending on your budget and requirements, a full-scale CRM system may not be a first priority, but you will most definitely want a cohesive method for managing activity with your HBW leads.  Keeping your leads and activity organized is vital to contact management – Here are 5 tips for getting started:
1. Compatibility – There are a number of contact management tools out there, and sifting through them can become a daunting task. One way to narrow-down your options is to make sure the app and/or system is compatible with your devices.  Does it support Android and/or Apple?  Will you be able to view and edit contacts from your Mac or PC? Additionally, you will want the flexibility to import and export contacts and data easily between devices.  With HBW reports, you have a variety of formats available (Excel, CSV, dbase, pdf) which leaves your options for compatible systems wide-open.
2. Take Action, Quickly – When you receive reports from HBW, lead data is current and reflects the most recent activity from a given week. When it comes to leads, the age-old expression "strike while the iron is hot" rings true – According to Harvard Business Review, companies that contact prospects within one hour of an inquiry are almost 7x more likely to reach a key decision-maker. If you have a sales team or others who share lead information in your business, you will want to distribute the information quickly.  Make sure that the contact management system you choose will allow you to quickly import, distribute and share information with a variety of users. Also, set up alerts to ensure leads with a high quality score are pinged to all pertinent members of your sales team.
3. Choose a Management System – Whether you are looking for a robust CRM system or a simpler contact management system, you will need to choose an application that will meet current and future needs, as well as your budget. There is an abundance of effective tools on the market, so it is imperative that you take a comprehensive look at who will be using the tool and what information you will be recording and tracking.  Many CRM systems allow you trials or offer free and limited use, and most contact management apps are free and enable users to integrate social media, websites and other information not offered in a basic "contacts" app.  Some of the more widely used and free contact management apps include the following:
 Google Contacts – More than just a mere address book, Google Contacts will allow you to easily import/export contacts, as well as access them from almost any device. You can add just about any possible information to your contacts, and Google will automatically update it with their Google+ information. For notes, you can keep text notes on contact pages which is a great way to track information that you'd otherwise add to a contact's page in a CRM system.
Highrise – Highrise is an app that was created by the makers of the widely known project management app "Basecamp". It is like having one piece of paper with every possible detail about your contacts, including contact information, related tasks, conversations, documents and more. It also provides tools for tracking deals and progress.
FullContact – This software and contact management app will allow you to sync your contacts across all devices. You are able to add social profiles and photos to your contacts, as well as clean and merge duplicates. It will also allow you to import your HBW leads (CSV) into your unified list of contacts.
4. Make a Hard Copy and Back-up – Since HBW reports are available in a variety of formats from spreadsheets to easily printable PDFs, this next step is a breeze. Let's face it… Sometimes, we forget to charge our phone or simply misplace it; cracked screens are another common occurrence, as well as poor signals in certain areas. Let's not forget natural disasters either; electricity can be down for days or weeks. Make sure you can access your contacts with or without your device.  Even if your hard copy just holds the basics (name, address, email, phone), it is better than having nothing at all.
5. Refresh Your Leads – Once you have a contact management system in place, make sure to refresh and add new leads to your database. It is important to follow-up with existing and open leads, but make sure you and your team continue to funnel new opportunities through your system.  HBW does the work for you by staying on top of the newest construction permits and offering weekly reports; the only step left for you is to import the latest data into your system.  Having a separate file or area for "Inactive" "Active" and "New" contacts will help your team be aware of the latest leads to pursue.
No matter which system you choose, from a complex CRM to a simpler contact management solution, it is worth considering a shared and multi-functional application. By utilizing the right technology for you and your team, you can save time and money by having all leads and related activity in one easily accessible location.