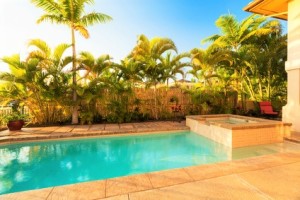 To have solid leads, you need to keep them fresh, and if you're looking for the latest on swimming pool construction in Florida, then look no further than HBW's construction data reports.  Using the swimming pool permit reports, we found more than 1,500 new permits and an excess of $68M in value for the month of June.  Out of the five major regions reviewed (Orlando, Jacksonville, Tampa, SE and SW), Southwest Florida remains the leader for the most new swimming pool construction activity across the state.
Since May, Orlando bumped up one spot to be the second hottest place for new swimming pool construction, while the southeast region slipped down one spot, ranking third for total swimming pool starts last month.
Here is a quick look at the latest permitting activity for swimming pools in Florida…
The southwest region of Florida continues to be a popular spot for swimming pools.  In June, there were nearly 430 new pool starts with a construction value in excess of $19.5M.  The counties of Lee (178 permits) and Collier (105 permits) held more than half of all new construction activity for the month.  And while Aragon Pools and Spas dominated the area for total permits, Pinnacle USA and Aquadoc were also leading a healthy heap of new projects.
Moving to the central portion of the state, Orlando was up one spot since May and ranked second for new pool construction last month.  Out of the 335 pool starts and nearly $16M in construction value, close to 40% of all new swimming pool construction took place in the city-center county of Orange.  All Seasons Pools continues to be a builder of choice at it took top spot for the most new permits of any local builder in June.
Having slipped down one spot since May, the southeast region was close to Orlando for total permits with 328 pool starts and nearly $14M in construction value last month.  More than half of all new pools were started in South Florida's highly populated county of Miami-Dade (90 permits) and expansive region of Palm Beach (106 permits).  Pool builders leading the latest starts included A&G Concrete Pools, Pools by Greg and RHR Pools.
Tampa is a place that has been gaining quite a bit of attention for its growth and increased popularity.  Last month, there were more than 300 new swimming pool starts with a total value of nearly $13M.  The larger county of Hillsborough carried more than 38% of new pool construction activity with 117 new permits on file for the month.  Local pool builders leading new construction in the area for the month include Olympus Pools, Tampa Bay Pools and Natural Springs Pools.
Finally, we took a look at the northern-most region of Jacksonville.  New pool construction and value in Jacksonville was lower than any other major area reviewed last month.  Out of the more than 150 pool starts and approximately $6M in construction value, the bulk of new permits originated from the two counties of St. Johns (63 permits) and Duval (45 permits).  Pool builders that had the greatest concentration of starts for the month include Surfside Pools and Spas, Blue Haven Pools and Stanley Pools.
As far as the average value of pool construction in Florida is concerned, the range has remained somewhat consistent over the last couple of months, having a maximum value of just about $46k.  In June, Orlando held the highest average value and was on target with figures from May at $46,856, while Jacksonville was at the other end of the spectrum with an average value of $38,905.
Information utilized for the graphs and above listed figures for swimming pool construction in Florida was directly derived from HBW construction data reports. To gain access to the HBW database and receive custom and detailed reports on the latest residential and commercial building activity in Florida, Georgia, Texas, Alabama, and Oklahoma, please contact HBW for details.