A review of permit data for new home construction in Florida during the month of April 2021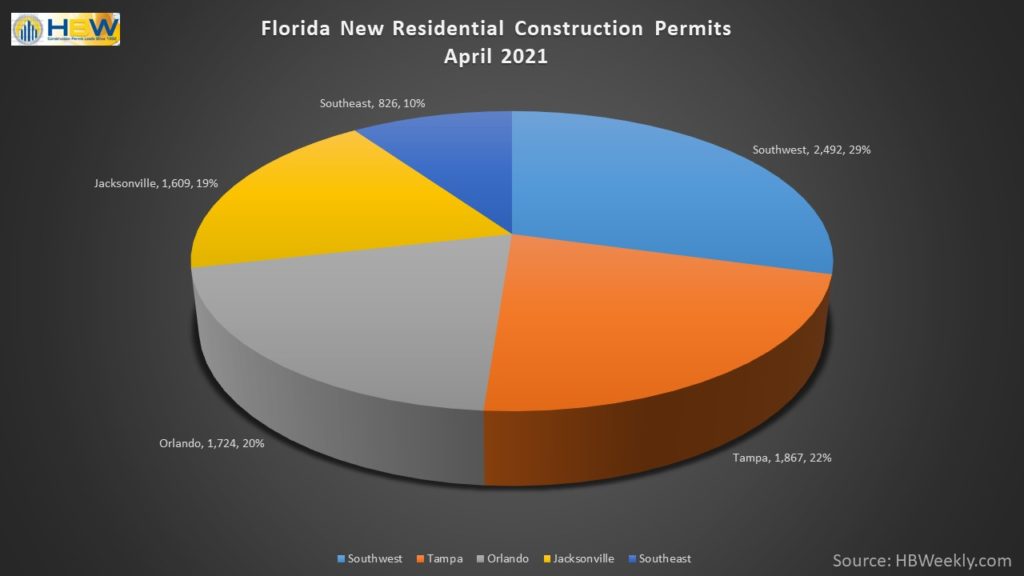 In Florida, there were approximately 8,520 housing starts with a total construction value in excess of $2.2 billion added to the HBW database last month.
Top Markets
Out of the five regions reviewed (Southwest, Tampa, Orlando, Jacksonville, Southeast), more than half of all housing starts originated from the Southwest and Tampa areas last month where there were 2,492 and 1,867 new residential construction permits added to the HBW database respectively.  Following the Southwest and Tampa, higher concentrations of new home construction could also be found in Orlando (1,724 permits), as well as the Jacksonville area (1,609 permits).
Leading Counties
Out of the five regions reviewed last month, there were several counties that reflected a high volume of new residential construction activity; those counties include Polk County (727 permits) and Pasco County (662 permits) in the Tampa area, and Lee County (646 permits) in the southwestern region.  Additionally, Manatee County (Southwest) and Duval County (Jacksonville) exhibited a higher volume of housing starts in comparison to other counties across the state as there were 599 and 582 new permits on record for the one-month period respectively.
Average Value of Construction
Last month, the average value of new home construction across the Sunshine State ranged from a high of $312,602 (Southeast) to a low of $228,737 (Jacksonville), with the Southeast leading and having the highest average value of new home construction in comparison to other Florida regions reviewed.  Here is a look at the average value of new home construction statewide during the month of April: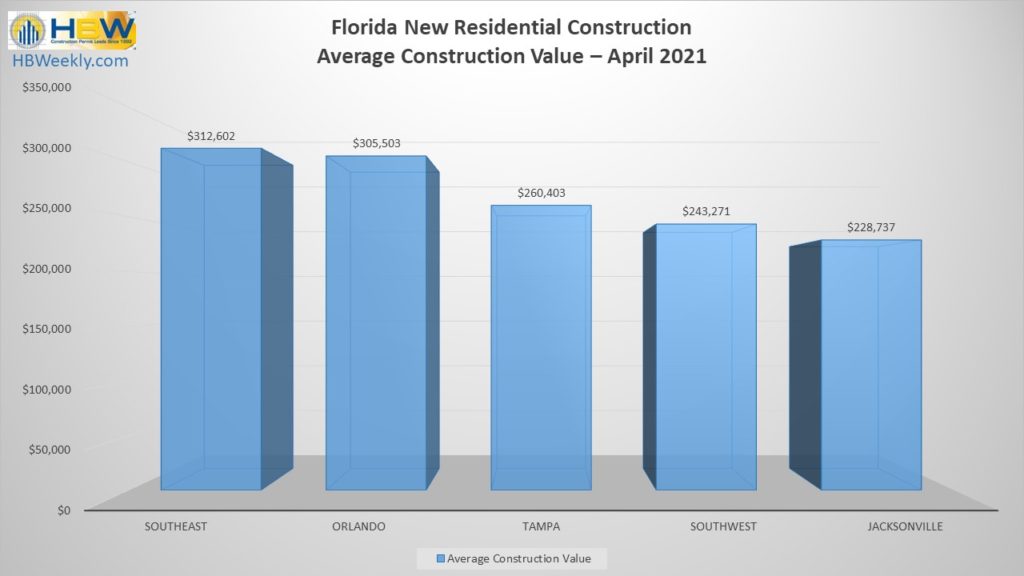 To gain more information on the builders, homeowners and permits for the construction activity above, check out HBW for your copy of the latest construction data reports. To gain access to the HBW database and receive custom and detailed reports on the latest residential and commercial building activity in Florida, Georgia, Texas, Alabama, and Oklahoma, please contact HBW for details.