Twin Oaks park closed indefinitely after at least 100 acres of wetlands, native flowers and trees were destroyed last we by a DR Horton subcontractor. Photo Courtesy of the Osceola Sheriff's Office.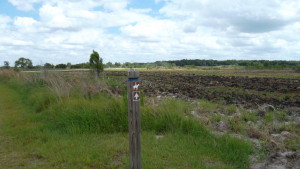 Twin Oaks Conservation Area in Osceola opened in 2013, but will remain closed indefinitely following a major developer's destruction of 100 acres of wetlands along the shore of Lake Tohopekaliga last week. The 399-acre park is the result of a five-year conservation effort to restore the native natural habitat and remove invasive species. Since its opening two years ago, this park has attracted kayakers, bird watchers, and horseback riders.
"We want the public to know it will be closed until it's safe," says Pino. "We don't want somebody walking there … or somebody riding a horse off a trail and getting seriously hurt."
Last Friday, the head of the county Natural Lands program discovered the damage amidst an attempt to stop a tractor from dragging a massive disc harrow through the wetlands. $300,000 worth of plants and trees had already been destroyed. County spokesman Mark Pino states that, "I think it's safe to say more than 100 acres were impacted but I don't have the numbers yet." Sheriff's photographs like the one above document the acres of mauled wetlands where thousands of native species flourished until last week.
The park was once part of the historic Heart Bar Ranch, which is where Brahmin bulls were first introduced into American livestock breeding. D.R. Horton purchased the remaining 1600-acres of the former ranch for development into housing and retail space. The development's 2,796 homes and 639 multifamily units will house an estimated 10,000 residents, who will enjoy over 450,000 square feet of retail and office space. 600 acres of the Horton development are slated to for restoration to become wetlands once more.
D.R. Horton subcontractor Bio-Tech Consulting admitted to straying across park boundaries, but doesn't really understand what the fuss is about. Company president John Miklos, who earned his bachelors in Limnology 21 years ago, disagrees with the estimate of destroyed acreage. "There's some trail area that got disced up that we're going to fix," he says. Miklos estimates that only 17 acres of Twin Oaks was destroyed.
Miklos acknowledges the damage, but claims that the 100 acres of wetlands that his company destroyed were fallow ranch land that lie outside the park's boundaries and are part of D.R. Horton's parcel of the former Heart Bar properties. According to Miklos, "you're going to see most of that area completely submerged in the long term. The bottom line is the work that's occurring out in the pasture is what I think is the first step in a historic wetlands restoration project."
The question of whether the gouging the land with a massive disc harrow is the best way to begin wetlands restoration on wetlands that had already been restored by through public monies has as yet gone unanswered by Miklos.
Robert Mindick, head of the Natural Lands program, filed criminal suit last week against D.R. Horton, charging the developer with intentionally destroying five years of publicly funded restoration. According to the Osceola County Sheriff's Office report filed by Mindick, "the developer or its sub-contractors continued the destruction of the lands even after they had been warned to stop." They continued gouging into areas that the Natural Lands program has deemed "off limits to any development."
D.R. Horton has yet to weigh in on the issue.