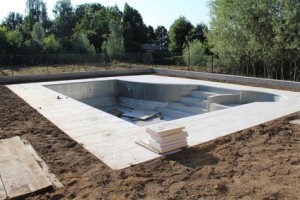 When you think of Atlanta homes, chances are that you do not think of homes with swimming pools.  In fact, according to Georgia Home Digest, "the most rare item in all of Georgia is a home with a swimming pool."  That being stated, there is still some demand for swimming pools in the Metro Atlanta area, and HBW maintains a watchful eye on the latest permitting activity.
In the first quarter of this year, new swimming pool construction is off to a slower start in Atlanta.  With 418 pool starts, the Atlanta area has experienced a 4% year-over-year decrease in new pool permitting activity.  That being stated, the winter months are not the high season for swimming pool construction in Atlanta, so there is still plenty of time for pool builders to catch up and even surpass last year's figures.
From a countywide perspective, Fulton took the lead for total starts.  With just over 100 swimming pool starts since the beginning of the year, Fulton County is already ahead of 2017 by 7%.  Other Atlanta areas/counties that are seeing higher levels of new pool construction include: Cobb County (56 permits, -2%), Gwinnett County (43 permits, +2%) and Cherokee County (42 permits, +2%).
Over the last five years, the Metro Atlanta area has experienced incremental and consistent increases in new pool construction, and while first quarter figures can provide clear data on construction activity at the start of the year, it is a finite view and not necessarily indicative of construction permit data to come.  HBW continuously monitors and collects data on the latest permitting activity, and with weekly construction and swimming pool permit reports readily available, new in-ground swimming pool construction patterns and trends will be identified and explored in future reviews and posts.
To gain more information on the builders, homeowners and permits for the construction activity above, check out HBW for your copy of the latest construction data reports. To gain access to the HBW database and receive custom and detailed reports on the latest residential and commercial building activity in Florida, Georgia, Texas, Alabama, and Oklahoma, please contact HBW for details.